Best Camera is a photo editing app from professional photographer Chase Jarvis and Ubermind. Jarvis has long been a proponent of the oft-repeated photography phrase "The best camera is the one that you have with you." and this $3 app for the iPhone and iPod touch builds off of that belief.
Jarvis himself actively shares his fantastic iPhone photos through his Website, Facebook. and Twitter. Best Camera allows you to do the same with ease. There are two primary functions of the app—photo editing, and social sharing.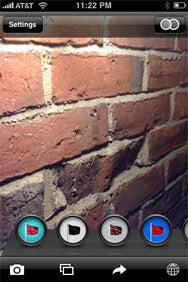 Best Camera allows you to choose the default action that occurs when the app is launched: Select Photo From Camera Roll, Open Camera, or Edit Photo. I like being able to have editing apps go right into the camera roll when launched, as I almost always edit from a pre-shot photo. The editing features of Best Camera are based on adding one or more pre-set filters to the photo. After you select an image, the filters appear along the bottom of the frame on a OS X-style dock. You can slide them left to right to select one of the 12 filters and two cropping options.
There are basic filters like Warm, Cool, Light, and Dark, as well as others like Jewel, Candy and Paris. Each filter has its own unique feel that it adds to the image—Paris switches the image to a high contrast black & white while Jewel (one of my personal favorites) gives a Holga-style look with some deep contrasts and dark, vignetted edges.
Best Camera applies filters in a well-designed manner. After you select a filter, the image updates to reflect the change. You're then prompted to apply the change or cancel based on your happiness with the result. This approach makes it very simple to quickly test a number of looks before settling on one you want.
Adding pre-set looks to photos is a common feature of many editing apps, but what sets Best Camera apart and makes it so much fun is the way that you can layer the filters. You can add multiple filters on top of each other to create custom looks. It's so simple to add and remove filters that I found myself playing around with big combinations before deciding on the final result. Even then, it's not really "final" until you save it. At any time, you can select layer button on the top of the screen to remove any layer, even after layers have been applied.
The social element of Best Camera begins once you've finished editing your photo. When you choose to save the photo, the app presents you with a list of places to send the image (as well as save it). You can send directly to Facebook and Twitter, add the photo to an e-mail (for simple posting to sites like Tumblr or Flickr), and upload your image to the Best Camera Website. Each option has a simple check box that you select upon saving.
In addition to the frequent social sites like Facebook and Twitter, Best Camera also acts as its own social network. From within the app, you can select the globe icon on the lower corner and view recent and popular images that have been uploaded to the Best Camera site. While viewing each image, you can vote on it by clicking the Thumbs Up button.
This is one aspect about Best Camera that could stand some improvement, though. I've noticed more and more people sharing images taken with Best Camera on Twitter—they're easy to spot as the have the custom bestc.am short URL. However, when you follow the link to view the image, there's no way to vote. Voting can only take place within the app. I hope that if Best Camera's makers are serious about this social element of the app—and the Website community experience—that this feature gets extended.
Adding the ability to "follow" photographers whose work you admire would also improve the social element. There is a big positive to viewing other's images on the Best Camera site: it shows which filters have been applied. Much like traditional EXIF data, this can be a fun and helpful way to learn how to achieve certain looks.
Those gripes about one part of the Best Camera experience are relatively minor, though. The main editing functions of the app are very solid, well designed, and offer strong results. If you're looking for an easy-to-use photo editor that gives good results, you'll be very pleased with Best Camera. If easily sharing these photos online is also something appeals to you as well, then you'll get even more out of the app.
[Macworld contributor Beau Colburn lives in Boston where here takes tons of photos with his iPhone.]