Apple's rearranging boxes on its retail shelves again. The company tweaked the layout for App Store entries late last week, bringing the appearance into line with the rest of the iTunes Store, which was overhauled in September with the introduction of iTunes 9.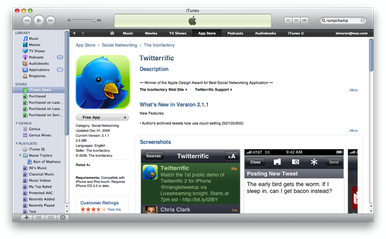 The new layout focuses much more on the visual appeal of an application, featuring a much larger icon and more prominent placement of the app's screenshots, which now appear near the top of the page in a horizontal-scrolling gallery similar to their presentation on the iPhone version of the store. As a result of the higher screenshot placement, the description and list of recent changes have been truncated to just three lines—in order to expose the full description or list of updates, the user has to click on a link.
Some have suggested that the reduced emphasis on descriptions may be Apple's way of dealing with the oft-abused field, which some vendors pump full of search terms and extraneous information. Last July, the company gave developers the ability to add search keywords in the hopes that it would reduce that practice, but if this latest move is any indication, it seems likely that hasn't worked out as well as Apple had intended.
Information on the app, including its category, date of last update, current version, and more are now below the icon and purchase link. Apple's also added the same drop down menu of sharing features that music, movies, and other media has had, letting you e-mail a link or share it on Facebook or Twitter.
On the whole, it's a cleaner, more modern look to the store that mostly compares favorably to the previous incarnation.
Not everybody is positive about the changes, though. The Iconfactory's Senior Software Engineer Craig Hockenberry dinged the revamp on Twitter as contributing to the App Store's focus on the superficial, asking "When was the last time you saw a movie just because you liked the poster?" His colleague at the Iconfactory, designer Louie Mantia, went so far as to mock up an alternative look that retained the new prominent placement of screen shots and still have the description and change listings displayed in their entirety.
And, of course, there's the perennial argument that all Apple is really doing here is rearranging the deck chairs on the Titanic. With developers still dealing with the vagaries of the App Store approval process, it would seem like there are bigger problems at stake.