Houston, we have a litany of problems.
What could be more fun than playing as a super hero in charge of saving the galaxy? Captain Galactic: Super Space Hero from Digital Chocolate tempts you with that premise and the promise of an explorable cartoon world complete with super-powered action and more than 30 levels of fun. In truth, Captain Galactic is marred with technical difficulties that render flight difficult, fun nearly impossible, and ultimately make NASA's management seem smooth and efficient by comparison.
Captain Galactic is an amalgam of bad characters and clichés: he's part Captain Planet and part Astro Boy's awkward, coordination-challenged cousin. In the opening sequence, we're introduced to the origin of Captain Galactic. Once a student named "Spike Mopp," a lab accident went horribly wrong and he subsequently acquired super powers. His loyal droid companion mistakenly calls him "Mister Spike," thus setting the tone for the abysmal dialogue, story, and characters that make up this disappointing title.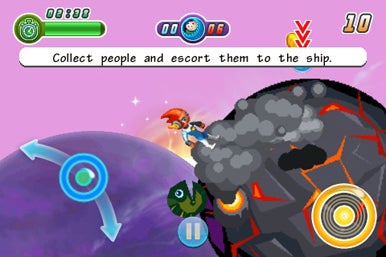 In his cosmic adventure, Captain Galactic has difficulties getting off the ground—as in, the game might not launch at all. Captain Galactic experiences more crashes than any game I've played yet for the iPhone, and I found significant slowdown during particularly intense action sequences when playing. Still listed at version 1.0.0 at the time of this writing, the game desperately needs an update because right now it's almost unplayable.
When Captain Galactic actually does run, there are moments when you wish it would crash again. The annoying dialogue, the character's insufferable '90s vision of cool, the ridiculously awkward controls, and the formulaic (and difficult) missions make the 30 levels of "epic adventure" a chore.
Each mission tasks you with saving sleeping humans that need to be rescued. The humans, represented as little balls, are scattered in a given solar system and you must collect them and return to your spaceship before time expires. At its best, Captain Galactic presents a unique thrill in controlling the character through a maze of planets, flying between orbits with ease.
In each 2D map, you can guide Captain Galactic as he orbits a planet, runs on the surface of a planet (with the help of a strange touchscreen movement reticule), and flings himself from one planet's orbit to another. The inexact controls make flying from planet to planet more challenging than it should be, turning what should be an acrobatic show of agility into an often frustrating physics lesson. Even worse, Captain Galactic's main attack, the "slingshot attack," needs to be executed directly on top of an enemy—a harrowing task considering how inexact the flight system is.
As the game progresses, you'll be confronted with new enemy types that either must be either defeated using the slingshot attack or avoided altogether. Contact with any of these enemies will scatter the human icons you've been collecting, effectively making you recollect them before time expires.
Boss battles are against large evil planet-sized enemies that initially wait there for you to destroy them; in later missions, they actually put up a fight. Again, the use of your slingshot attack is crucial and frustratingly hard to perform accurately due to each planet's gravity pull, your trajectory, and speed.
Captain Galactic is that rare combination of gaming that gets more difficult as the game progresses without getting more fun. The bugs, crashes, and shoddy controls render the pleasantly cartoonish artwork and long gameplay length a waste. (You can make your own judgment by downloading a free version of Captain Galactic, which limits you to four levels.) A major, galaxy-sized update would do wonders to save this game from itself; the potential is there, though right now Captain Galactic is so mired in technical difficulties that the ship from Alien had a smoother flight.
[Assistant editor Chris Holt is no space cadet.]