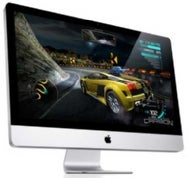 If you're hoping to get your hands on one of those glorious new 27-inch iMacs before Christmas, you might be out of luck. In a statement to CNet this past weekend, Apple apologized for shipping delays that have both the quad and dual core computers showing ship times of two weeks on the online Apple. Third-party retailers like Amazon are even worse off, with the iMac not shipping from them for one to two months.
The company has not specified a reason for the delay, but reports of hardware issues have dogged the new machine since its debut. After its initial statement Apple has maintained radio silence; the company did not respond to Macworld's requests for further comment.
The new widescreen iMac has received very positive reviews, but at the end of November, when the 27-inch iMac first shipped, customers—including Macworld's own lab director—began reporting units arriving with cracked screens. Apple's support forum currently has more than 1,255 comments and complaints about flickering displays and screen distortion and an entire Website has cropped up to give the masses another place to vent their frustration about the iMac. It seems reasonable to suggest, then, that Apple is trying to address the problem and prevent more defective machines from reaching customers.
Given Apple's vaunted perch atop consumer surveys and given all the rosy press of late, it's unlikely that the delay—even if the result of widespread hardware problems—will dent the iMac's reputation. But the holiday timing is certainly bad since the delay might dampen sales. After all, the company is hoping to report in January on another quarter of blowout earnings.