When I heard the AP Stylebook made the leap to iPhone, I dreamt of replacing my coffee-stained hardcopy of the book. The Associated Press pitches the app as a version of its annually updated stylebook (a reference for its preferred word and punctuation usage) for mobile journalists and writers. Deadline writers can rely on the app, with some caveats.
The app works like the book, or better. Quick touchscreen typists can find entries faster, though proficient searching requires some familiarity with the stylebook. Category dividers and arrows enable quick browsing and sequential reading. Users can make new entries and mark favorites.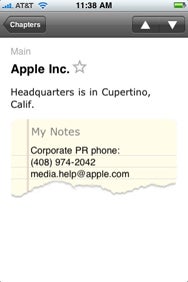 Unfortunately, the AP left some of the stylebook out of this mobile edtion: some entries are less complete than those found in the paper version, and at least one refers to the stylebook's Briefing on Media Law, which is not included here. Some entries with tables or graphics didn't translate well, and URLs are not hyperlinked.
The AP Stylebook is a capable substitute for its paper original, but rough edges in its first release prevent it from being a perfect replacement. The upcoming 2010 release, which may fix some problems, is free to purchasers of the 2009 app.
[Jason Whong is a reporter and photographer at a community newspaper in Elmira, New York. In his nearly six years of recording community happenings, he has received awards from the New York State Associated Press Association and the New York Newspaper Publisher Association.]