Snipers are among the most feared soldiers in the world. They can camp out for days, taking their time to ensure they have the perfect shot. But as a sniper in Sniper Vs Sniper by Com2uS, you'll have mere seconds to line up your shot and take out other sharpshooters. Available for the iPhone and iPod touch, the action ranges from a robust set of single player campaigns to heart-stopping competition against other players online. You'll have to be observant, quick, and steady in order to master the tilt controls and stay alive.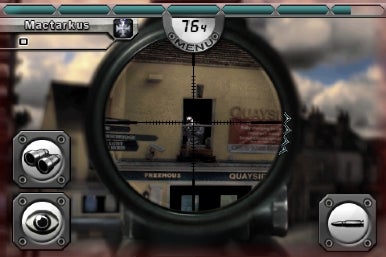 Gameplay is very simple to learn yet very hard to master. In the campaign mode, you'll visit different locales where you must spot the hiding snipers in the scenes and eliminate them. You will have to act quickly because they are gunning for you just as you are gunning for them. You can use a pair of binoculars to zoom in to find them, and then you can take aim with your rifle through the aid of a scope. Tilt the iPhone left, right, forward, and back to position your aimpoint and tap to fire. Cues on the scope indicate the position of other snipers so you don't have to take your eye off the scope. Take out all the snipers in the alloted time, and you advance to the next level.
The game is very polished with easy-to-navigate menus, detailed scenery, good game music, and excellent ambient sounds. Becoming a true marksman will take some practice. I struggled for many hours to become comfortable with the controls—so I recommend the campaign mode before getting humiliated by human opponents online. Fortunately, there is also a game mode where you can team with online players to battle AI snipers.
If you like the sniper genre of games, there is plenty of depth in Sniper Vs Sniper. With ranked online play and many different game modes, the $5 pricetag offers tremendous value. Additionally, if you want to try out the game and experiment with the controls, there is a lite version as well.
[James Savage is the host of the RetroMacCast a weekly podcast devoted to older Macintosh computers.]