With the promise of stunning graphics and a vast world to explore, RavenSword: The Fallen King is one of the most highly anticipated games to be released for the iPhone and iPod Touch this year. Published by Chillingo and developed by a two man team at Crescent Moon Games, this adventure RPG looks to take gaming on the iPhone and iPod touch to the next level.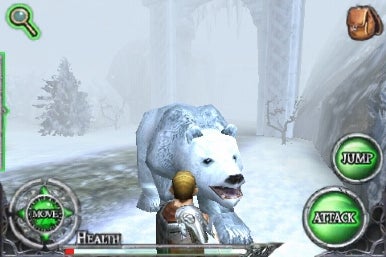 Ravensword starts out with your character waking up stricken with amnesia. A kind villager apparently explains that he found you lying unconscious in the woods and has nursed you back to health. From there, your character sets out on a predictable journey to stop evil.
After thanking the villager and leaving the room you're plunged into the world of Ravensword. The 3D landscape is beautifully rendered with lush vegetation and detailed buildings. From the lava pits and forest to the snow-covered mountains and caves—you can spend hours just wandering around exploring. The sandbox open world style play, reminiscent of games like Elder Scrolls, really sets RavenSword apart from anything else in the App Store. As you venture out past the city gates you encounter all sorts of creatures to fight—from rats and goblins to towering ogres and yetis. RavenSword's main quest takes from 6-8 hours to complete, but with all the side quests and secret areas to discover, you're sure to be playing longer than that.
As you gain experience and level up, you are awarded points that are automatically assigned to your different attributes. There's not really a lot of character customization in RavenSword, instead the focus is more on action, adventure and exploration. While many will find this to be a drawback, others will enjoy not having to bother managing their character's development so closely. I personally enjoyed the gameplay but would have preferred to be able to choose which attributes to assign points in. The weapons and armor in the game are similarly limited, with only a handful of choices in each category and the differences between them not identified by stats. Luckily, there's an update in the works that addresses some of these issues. The developer is said to be adding more creatures, quests, items, character development and areas to explore.
RavenSword's interface and control scheme work quite well. There's a virtual joy stick for moving around and attack and jump buttons. Dragging a finger on the screen will steer your character while walking and let you look around. On the right side of the screen is a fly-out menu for quickly switching weapons or drinking heath potions etc. There's also a heath bar, a button to switch between first and third person views and a backpack button that gives you access to your inventory, stats, map, setting and quest. Unfortunately, the game lacks a true map with full details on your location, the names of the areas you've visited, etc. Instead, there's just a general map that shows what area of the world you're in. On the plus side, RavenSword has an easy-to-use targeting system that is activated by tapping an enemy, ensuring you'll stay facing them during battle. If you double tap a creature you can see its stats and level so you can choose your battles with appropriate intel. On my iPhone 3G, with high graphical settings (including shadows and foliage turned on) the game ran pretty smoothly with only the occasional lag.
It's worth saying again: RavenSword has stunning graphics that really keep you fully immersed in its world. But adding to the immersive experience is a great classical score and ambient sound effects of footsteps and birds singing in the trees. You'll definitely want to use your headphones while playing RavenSword.
As one of the most ambitious games to make its way to the platform, RavenSword has opened up a whole new realm of possibilities. With a huge world to explore, there's always something to do. Whether it's questing, battling monsters, practicing your bow and arrow skills, or even riding around on a horse—you'll keep coming back for more. I definitely recommend getting this $7.00 gem and look forward to the next update.
[Tim Mercer is a technology enthusiast, graphic designer, and blogger, whose blog, digital-artist-toolbox.com, offers free resources to the digital artist and graphic designer.]