At a Glance
Expert's Rating
Pros
Solid image quality, lots of features
Cons
No .avi video playback
Remote lacks button for changing aspect ratio
Our Verdict
If you've had your fill of flat-screen HDTVs with shiny black bezels, check out Vizio's VL470M. Moderately priced for a 47-inch, 1080p LCD TV with a 120Hz refresh rate, the VL470M sports a classy-looking matte bezel that sets it apart from the crowd—and it's no slacker in the image-quality department, either.
Judges gave the VL470M (one of Vizio's higher-end sets) above-average scores across the board in our lab testing, placing it toward the top of the 46- and 47-inch HDTVs we've tested (only the Samsung LN46B750 [ ] earned a better performance score). Judges gave the VL470M particularly high marks for its color and skin tones, and it performed extremely well in our demanding motion benchmarks and panning tests. This is a set on which you'd enjoy watching the Super Bowl and other fast-action programming.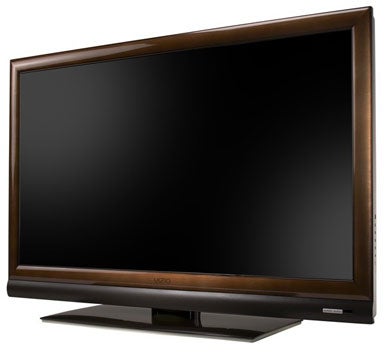 Features-wise, the set is generally the same as the similarly priced Vizio SV470M ( ), which didn't do nearly as well in our image-quality tests and lacks the VL470M's excellent support for media playback from a USB flash drive. Not only can the VL470M display JPEG still images as slideshows with background music (unencrypted MP3 files only), but it also lets you choose from a handful of transitions (random, dissolve, wipe right, wipe left, wipe up, wipe down, box in, or box out), unusual for such applications on TV sets.
However, though the manual says that the set also supports playback of several video formats (.asf, .wmv, .avi, .mp4, .mov, .mpg, .mpeg, and .vob [DVD]) I was unable to play either of the two videos on my USB drive. The .avi files appeared on screen, but the set presented a message saying that it did not support the codecs. (For .avi, the manual says that only H.264/AVC and AAC are supported, and it's possible that my clips were encoded differently.)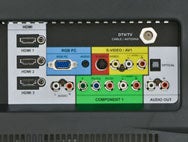 As usual, Vizio provides excellent documentation: a huge, color quick-start poster that describes all inputs and advises choosing digital connections wherever possible, plus a slick manual with good illustrations. Both are available as PDFs online. Inputs (four HDMI, two component, one composite, one S-Video, and one VGA for computer hookup) are all clearly labeled and easily accessible, and when you power on the set a first-time wizard guides you through choice of language, home versus retail environment, and TV source (antenna versus cable) before launching the channel tuning scan.
Also as usual, Vizio's on-screen menus provide tons of options for tweakers. You get nine video presets, including four different sports modes (baseball, basketball, golf, and football) as well as standard, movie, game, and vivid modes, plus a customizable preset. Advanced video settings include controls for noise reduction, color enhancement, advanced adaptive luminance for improving details in dark areas, backlight control, color temperature, smooth motion level, and real cinema mode (the last two are for smoothing out jerkiness that can occur with certain types of content, including movies). A smooth-motion demo option creates a split screen showing duplicate content with the effect applied on one side only, so that you can see how the technology affects the image.
As for the audio, you get five presets (flat, rock, pop, classic, and jazz). I found the VL470M's audio quality to be pretty good, and better than that of the company's SV line: While the soundtrack for Phantom of the Opera on Blu-ray was not as loud as I would have liked when played at full volume, the surround-sound emulation was reasonably good. Vizio includes a feature for adjusting the synchronization of audio with video, which can correct lag between the two. The SRS TruVolume feature levels the loudness so that you don't get spooked by unusually noisy ads.
The set's picture-in-picture feature, which lets you draw from two input sources (but not from two TV channels, since the set has only one tuner) is also unusually customizable. You can reposition and resize the box with the superimposed video, or even display the two side by side (Vizio calls this POP, for "picture outside picture").
The VL470M's remote control is one of Vizio's newer minimalist models: It has a lot fewer buttons than the remotes of many other current sets, and you cannot program it to control other home entertainment devices (making it a good candidate for replacement by a universal remote). It feels good in the hand, however, and it has large rockers for volume and channel changing, plus clearly marked buttons for switching inputs, viewing on-screen program information, and toggling to the last previously viewed channel. I did miss having a button to select aspect ratio: To do that, you have to access the on-screen menu.
Vizio VL470M
| | |
| --- | --- |
| Performance | Very Good |
| Features | Very Good |
| Design | Very Good |
Scale = Superior, Very Good, Good, Fair, Poor
Vizio touts the set as exceeding current Energy Star guidelines "by at least 15% below Energy Star 3.0," and in our tests the VL470M's average power-on consumption of 126 watts did put it into the lower half of its test group. Powered down, the VL470M consumed a modest 0.2 watts.
Macworld's buying advice
In the end, the VL470M's solid image quality and impressive feature set far overwhelm its shortcomings, and overall it fully delivers the kind of value that has helped Vizio vault to the top of the flat-screen TV heap.
[Yardena Arar is a contributing editor for PC World.]