At a Glance
Expert's Rating
Pros
Slideshows can include pop-over media viewers
Streamlines publishing to the server
Includes highly customizable themes
Creates impressive Flash-based slideshows quickly and easily
Generates an alternative slideshow for iPhones
Cons
Limited commercial utility
Limited font choices
Cannot use graphic images as backgrounds
Our Verdict
Flash is an intimidating concept for novice Web designers and bloggers, and most tacitly accept that Flash-based content is far out of their reach.
Aquafadas challenges this notion with BannerZest Pro 2.1, an application that lets you easily build Flash-based interactive slideshows. Not only is the program easy to use, but the resulting slideshows can be stunning and are very simple to add to your blog or Website. You can add BannerZest slideshow code to popular blog editors and Web design packages such as iWeb, Dreamweaver, RapidWeaver, Freeway, and others.
BannerZest comes in a Standard and a Pro version. The standard version gives you the basics, allowing you to create flashy slideshows for your blog or Website. The Pro version, reviewed here, has all the attributes of the standard version, but it includes extra themes, additional options for slideshow interactivity, and a Media Browser with support for iPhoto, Aperture, and Lightroom libraries.
Creating a slideshow with BannerZest Pro is straightforward. You can either drag images onto the application's main window or use the iLife-style Media Browser to drag images into the main window from your iPhoto ( ), Photo Booth, Aperture ( ), or Lightroom ( ) libraries. Unfortunately, there is no streamlined way to add an entire album; you have to select all the images and then drag them to the app's drop zone. Once the images are imported, they'll start cycling in a default theme.
An Inspector window provides access to four subsections: Media, Theme, Settings, and Publish. In Media, you give each image a proper title, subtitle, and unique URL, letting you link the image to its own photo page or, if you're using the software for commercial purposes, its own product page. You can drag the images to change the display order and even choose to crop your images to suit the chosen theme. A button at the bottom of the section allows you to add a single audio file that can loop during the slideshow.
The Themes subsection, as you might expect, lets you set a visual style for your slideshow. The themes very greatly in quality; quite a few are clean and elegant (like Gallery), while others are campy and difficult to recommend (such as Rising Balloon). Almost every aspect of every theme can be customized. The Settings subsection lets you fine-tune criteria such as the width and height of the slideshow, the background and text colors, corner radius and thickness of borders, placement and animation, the timing of transitions, the color of background and gradients, and much more.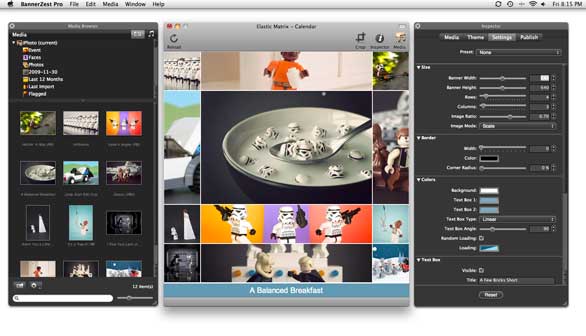 Unfortunately, there are some conspicuous omissions to the customization options. You cannot, for example, use a graphic image as your slideshow background. You're also restricted to seven standard Web fonts for most themes. (A few themes actually use embedded fonts, but users can't embed their own fonts into a slideshow.) The most painful omission is that you cannot overlay a slideshow with static elements such as company logo, company slogan, or even copyright information. This makes it a challenge for those seeking to create online ads with the program, and curbs the commercial utility of the software.
Once you've assembled a slideshow, BannerZest Pro expedites the process of uploading it to the server. Add your server configuration in the app's preferences, and you can upload it at any time via the Publish subsection of the Inspector. This section also allows you to set the image quality, configure a pop-up image viewer (a very slick option that showcases your photos individually and at a larger size), and publish an alternative slideshow for devices that don't support Flash. (This excellent bit of forethought by the developers ensures that iPhone users will see a simple slideshow on your page rather than an empty box.) Clicking Publish sends the slideshow to your server; when it's uploaded, BannerZest will generate an HTML code snippet that you can add to your Web design program or HTML text document.
Macworld's buying advice
BannerZest Pro 2.1 is a simple yet powerful slideshow editor. Its easy-to-use interface, highly customizable themes, and streamlined publishing make it worth a look if you'd like to add a little panache to your Website or blog.
[Chris McVeigh is an author, illustrator, and toy photographer based in Halifax, Nova Scotia.]