Apple's iPhone ads frequently make the claim that, whatever task you want to be able to accomplish, "there's an app for that." Sometimes, though, software shows up in the App Store that addresses a need we just don't have—or one that we can solve more easily without using multitouch and accelerometers.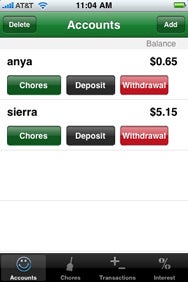 I'm looking at you, Chore Bank. The $2 app from Data Jedi aims to help you track which chores your kids complete, how much each of those individual chores is worth, and how much your baby blue collar workers are owed at any given time. I know it certainly never worked this way in my house growing up: There was no dollar value on making the bed—you either stayed out of too much trouble and got your fiver and the end of the week, or you didn't. But if your parenting style skews more audit-friendly, then I suppose Chore Bank could merit a look.
Since the app does take on a fairly mundane parenting process, I assumed it would sport a robust feature set, catering to its niche market. Rather, the interface lacks rather obvious elements. For example, you can't maintain separate chore lists per child, even though Junior will never need to "drive Junior to school" and your high schooler probably shouldn't be rewarded for "avoiding nighttime accidents." There isn't even a way to sort the chore list; it defaults to the order you add tasks in, which makes lengthy lists painful to navigate. I also wanted a way to export the chore accomplishment list—even via e-mail—but no option was presented. Missing features like this seems especially silly when you note the presence of other seemingly irrelevant ones, like the interest calculator.
If you reward your kids financially per chore, and your chore list is pretty minimal, Chore Bank might work for you. But its lack of polish will make even that limited amount of use something of a chore.
[ Lex Friedman hopes reading his Macworld contributions isn't a chore.]