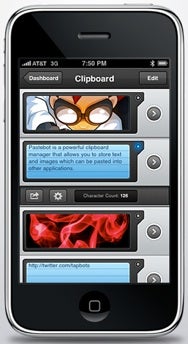 Tapbots is on a small list of iPhone software developers that, when it releases a new app, I just know I'm going to like it. I use Weightbot to track my weight, Convertbot to teach myself the metric system, and now I'm jazzed to check out Pastebot, Tapbot's newest app.
Pastebot, as its name suggests, is a new clipboard utility for the iPhone, designed with Tapbot's signature style. You can copy anything to Pastebot's clipboard, including images, simply by using iPhone OS 3.0's copy-and-paste tools in any other app, then running Pastebot to automatically snag it for the clipboard. There you can edit text with tools like find-and-replace, crop photos, add color filters, or wrap lines in HTML tags. You can organize clippings into folders, copy them back to the iPhone's clipboard for pasting into other apps, and e-mail clippings, though it would be nice to see more sharing options like Twitter.
One of Pastebot's most interesting features is its live integration with the Mac. If you install Tapbot's free Pastebot Sync utility (requires 10.5 Leopard or above), simply copying text or a photo on your Mac will send it to Pastebot on your iPhone. Even better, you can paste any clipping from Pastebot into the active Mac application you're using—great for pasting a photo you shot into iChat, or getting that quote you read on the Web into MacJournal for some writing or blogging inspiration. You can see this feature in action towards the end of the demo video embedded below.
Pastebot is $2, requires iPhone OS 3.0, and is available now in the App Store.
Read more…