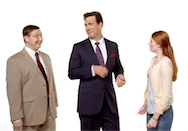 AdweekMedia has confirmed what any Apple watcher already knows—the 2000s were a good decade for Apple. The venerable advertising trade publication has selected Apple as the winner of several of its "Best of the 2000s" advertising awards. Apple also did well in Adweek's Readers' Choice poll, which was conducted online for the past month.
Adweek highlighted Steve Jobs as key to Apple's success, awarding him "Marketer of the Decade," primarily for his innovation in redefining music and mobile phones as computer-related businesses, and making them cool as well as profitable. The readers agreed—they voted for Jobs by a landslide, and also overwhelmingly picked him as "Media Executive of the Decade," in place of Adweek editors' choice, Rupert Murdoch. Adweek editors and readers concurred that Apple was the "Brand of the Decade," a feat that Adweek attributes largely to Jobs's strong and clear leadership.
Not surprisingly, given the publication's admiration for the way that iTunes irrevocably connected the music industry to the computer, Adweek picked the iPod as the "Product of the Decade." Readers, by contrast, gave the nod to the iPhone, with the iPod as second choice, and also picked not Facebook, the editor's choice, but the iPhone as "Digital Device/Platform of the Decade." This focus on the iPhone by readers may be explained by their selection of iPhone apps as the "Marketing Innovation of the Decade."
Adweek also tapped Apple and its partners for not one or two, but three ad campaign awards. Two of these were created by TBWAChiatDay's Media Arts Lab. Adweek chose "Get a Mac" as the "Campaign of the Decade" because the series, which debuted in 2006 and now includes more than 60 ads, anthropomorphizes the PC as a problem-filled geek and the Mac as a cool, untroubled winner. Adweek claims that this ad series illuminates human-computer interaction, but frankly it seems more about "in your face" than interface.
TBWAMedia Arts Lab's "Silhouettes" ads, which premiered in 2003, won "Out-of-Home Ad of the Decade" for their focus not on the product, but the "frenetic happiness" that it inspires in the featured silhouettes. Readers also liked this series best of all of the billboard or other outdoor ad options. Adweek selected the Nike Plus campaign as its "Digital Campaign of the Decade" for building on Apple's success with the iPod with a chip placed in a runner's shoe that links with an iPod or iPhone to track training progress—now that's human-computer interaction.
With all these awards lined up for the 2000s, the question is: what will we see from Apple in the 2010s?