How good is your Domain Name System provider? A newly-released utility, called Namebench, is designed to help users answer that specific question and optimize their DNS experience.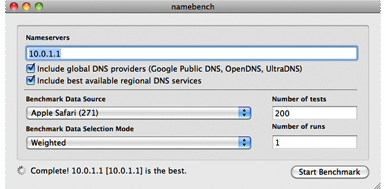 Namebench works by analyzing Internet usage patterns and making recommendations on the fastest DNS service available, based on information such as the computer's geographical location, browser history, and connectivity. The utility performs over two hundred tests against a number of different providers, including Google's own Public DNS, OpenDNS, UltraDNS, and several others.
At the end of its analysis, the tool generates a report on its findings, listing the available DNS providers (including the user's default one), their performance, and any problems associated with them. The application is a bit heavy on technical jargon, but its recommendation on the top three DNS providers is easy to spot and can be implemented with minimal changes to a network's setup.
Namebench, developed by Google employee Thomas Stromberg under the company's "20 percent" program that allows employees to work on their own experimental projects, is available for Windows, Mac OS X, and Unix from Google Code, together with its complete source code, which has been released under the open-source Apache 2.0 license.
DNS optimization has become a hot topic lately, with multiple companies vying to capture the advertising potential of drawing users to their search engines when they try to visit a Website using incorrect or nonexistent hostnames. In the longer term, because of its role as gateway between human-readable site names and IP addresses, DNS management could give companies a broad degree of control over how users access the Web.