As a kid I remember many times, sitting by the radio, writing down the lyrics to my favorite songs. As an adult, when music lyric sites began to spring up on the Internet, I found myself sitting at my computer, searching for lyrics I could never quite figure out on my own.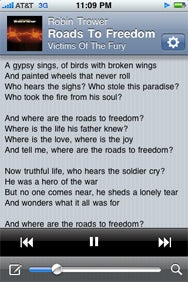 In recent years, though, online lyrics have been harder to come by due to the big music labels threatening legal action action against owners of these "unofficial" lyrics sites. Luckily, some of them have struck licensing deals with the record labels and a few iPhone developers have built apps that make use of those sites' services. One such app is Camena—Song Lyrics by Dan Hassin.
When you launch Camena, it grabs the song that's currently playing in the iPod application and heads online to find the lyrics. (Starting with version 1.2.1, Camena gets its lyrics from LyricFind.com.) Camena seems to locate lyrics fairly quickly, even on an EDGE connection; the info then pops onto the screen using a nifty ripple effect, much like the OS X's Dashboard.
If the font size isn't to your liking, you can pinch the screen to increase or decrease it. You can also look up lyrics to any song regardless of whether or not it's in your music library. An unusual bonus is the ability to view videos of the current song by turning your device sideways.
It stands to reason that Camena's results are most reliable when looking up songs by well-known artists, and when the song and artist information match exactly with the info at LyricFind.com. If there are any spelling variations at all, or if the artist is a little off-center, then it takes a little more work to sort through Camena's suggestions or search further. For example, the app couldn't find "Say What" by Stevie Ray Vaughan and Double Trouble, however, it suggested "Say What!" (note the "!" in the title). Additionally, Camena is not able to find tracks in my library by "Blue Oyster Cult" but it suggests those same tracks by "Blue Öyster Cult." These sorts of spelling variations are no doubt fairly common, so I think the app should handle them more intelligently. (I'm perplexed, though, at how the app seemed completely stumped by a band as mainstream as The Police.)
Camena saves song lyrics to your device so that you don't have to make an Internet connection to grab them again. That's a good feature for iPod touch owners who don't want to keep a continuous Wi-Fi connection open or for iPhone owners who want to conserve on data usage and/or battery power. It would be very useful if Camena could save the lyrics as standard iTunes metadata so that they could sync back to iTunes. That way, you could view those lyrics via the iPod app without also having to launch Camena. In prior versions of the app, you could e-mail lyrics to yourself and move them into iTunes yourself. However, the most current version of Camena (1.3.1) seems to have removed this capability, no doubt due to licensing pressures from the music labels.
To be fair, I have a very wide variety of music in my library, so I don't expect Camena to be able to locate lyrics to every one of my tracks. But I do think it could be a little more intelligent in dealing with variations in song titles and artist names. If your musical taste is fairly mainstream and the track info on your songs conforms precisely to its data source, then Camena will probably work just fine for you. But if your musical taste or track information is a little off center, then your results may vary.
[Brian Beam is a musician, web developer and partner with BOLD Internet Solutions, living somewhere near Kansas City.]
This review was updated at 2:40 p.m. PT to remove a reference to the lyrics-by-e-mail feature of a previous version of Camena. This edit did not affect the final rating of the product.