There are many fine Mac Web browsers to choose from, and no reason not to have several installed so that you can switch among them as needed. Even so, most of us rely primarily on one main browser. For that purpose, I recommend using one of the two most popular ones—either Apple's Safari 4 ( ) or Mozilla's Firefox 3.5 ( ).
Both are excellent all-around choices and work well as a default browser. Their developers put tremendous effort into improving these tools. With each release, they keep them on the cutting edge of new Web standards, improve performance, patch security holes, enhance privacy, and polish the user interfaces to provide the smoothest and most convenient browsing experience.
However, certain situations may make one or the other of these two browsers an especially good choice:
Where Safari excels
Viewing a PDF Safari's built-in PDF support means you don't have to wait for another application (such as Apple's Preview) to launch when you click a link that leads to a PDF file; it appears right in your browser window. (Note that a free extension called Firefox-Mac-PDF adds inline PDF viewing to Firefox, but without as much style as Safari's built-in support.)
Writing in Web forms Safari makes text area controls (multi-line text fields) resizable—just drag the handle in the lower right corner of the field. This is extremely handy when writing blog entries, leaving comments, and writing other text on Web page forms.
Full-text history searches Go to Safari's Top Sites view (History -> Show Top Sites) and a field in the lower right corner lets you search for words that appeared on Web pages you viewed recently—even if the pages are no longer open. Firefox can't do this, although you can add a roughly comparable capability using the free Google Desktop.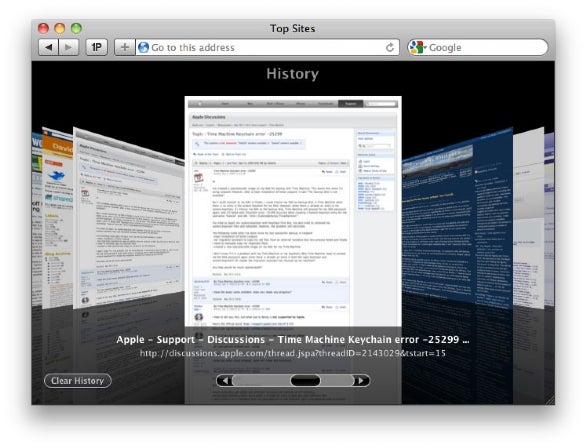 Displaying less-common graphics Safari can display graphics in TIFF or JPEG 2000 formats, neither of which Firefox recognizes. This means that when you click a link to one of these graphics in Safari, it'll display right in the browser window; in Firefox it'll download and you'll have to open it in Preview or another compatible program.
Where Firefox excels
Despite those strengths in Safari, Firefox is a better choice in some cases. Here are a few of the places where Firefox shines:
Using Google Toolbar Google toolbar is a free extension for Firefox that adds a long and user-configurable list of features to the browser, including quick access to Google Gadgets (modules that let you display all sorts of dynamic content, much like Dashboard widgets), translations, and Page Rank. (Page Rank is an indication of its importance as judged by Google, and a crucial piece of information for people interested in search engine optimization.)
Per-domain filtering Safari lets you block pop-up windows, cookies, and other Web features with privacy implications—but only as an all-or-nothing choice. Firefox, by contrast, lets you configure many privacy settings per domain, giving you much more control over your browsing experience.
Tinkering The lack of an officially supported plug-in API for Safari hasn't prevented developers from creating a variety of add-ons, but the range of choices for Firefox (see the Firefox Add-ons page) and the likelihood they'll keep working after a browser update are vastly larger. If you like to customize your browser and add or rearrange features, Firefox is definitely the way to go.
Displaying mathematical equations Firefox (and other Gecko-based browsers) can display inline mathematical equations created using the W3C's MathML standard, while Safari and other WebKit-based browsers just show linear strings of characters.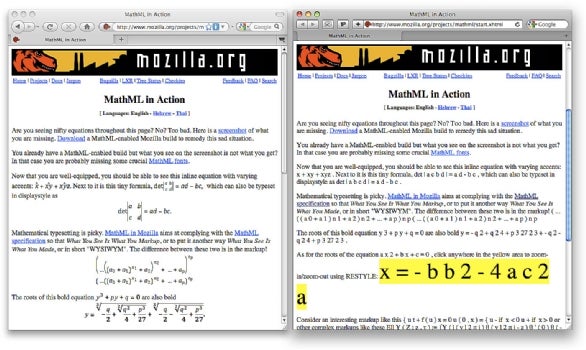 Senior Contributor Joe Kissell is the senior editor of TidBits and author of numerous ebooks about OS X.