In case you haven't heard, the browser war is over. It's not that there aren't still competitors—in fact, there's a bountiful landscape of Web browsers for OS X. Rather, the war is over because almost all modern browsers are stable, compliant, and free.
While there are good reasons to use either Apple's Safari or Mozilla Firefox as your default browser, sometimes you need specialty browsers to help with specific tasks. But how do you know which browser to use when? Here are some of the best uses of the lesser-known browsers such as the free Flock ( ), Devon Technologies' $50 DevonAgent ( ), The Omni Group's free OmniWeb ( ), Alexander Clauss' free iCab ( ), and more.
1.Thumbnails
For people who regularly keep dozens of tabs open at once, thumbnail images of each one can make it easier and quicker to find the one you're looking for. OmniWeb popularized the display of tabs as thumbnails in a drawer on the side of the window; Opera 10 ( ) can do something similar and lets you control the size and placement for the tab area. The Shiira Project's Shiira ( ) also displays thumbnails of open tabs in the PageDock at the bottom of the window. (To get similar behavior in Safari, you'll need the free SafariStand add-on. For Firefox, try the free Tab Sidebar extension.)
2. Social networking
Any browser can give you access to Facebook, Twitter, Flickr, and any other social networking site. Several also offer built-in RSS readers. But only Flock is designed around the fundamental task of collecting and disseminating information on social networks. For example, Flock can display live content from your accounts on various social networks in its sidebar and streams of photos, videos, news stories, and other media at the top of the window (regardless of what page you're viewing). Because information and controls for working with social networking sites is built into the browser itself, you save clicks and can more easily connect resources to each other.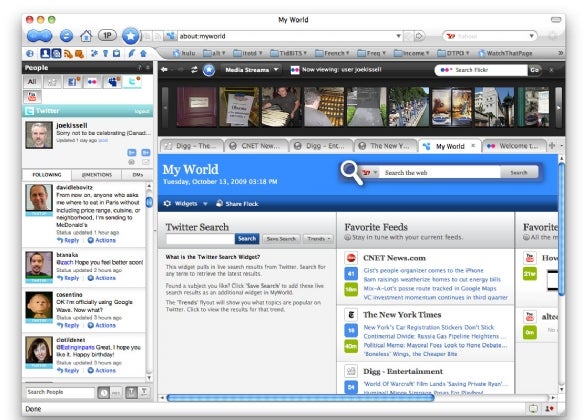 3. Power searching
In any browser, you can make use of conventional search engines such as Google and Yahoo. But if you want to perform highly complex research—such as integrating results from dozens of engines, employing complex Boolean logic, and mapping the relationships among matching sites—Devon Technologies' $50 DevonAgent ( ) has a set of tools that far outdoes ordinary browsers. Apart from its outstanding search features, it's not a very exciting program, but for that one task it can't be beat.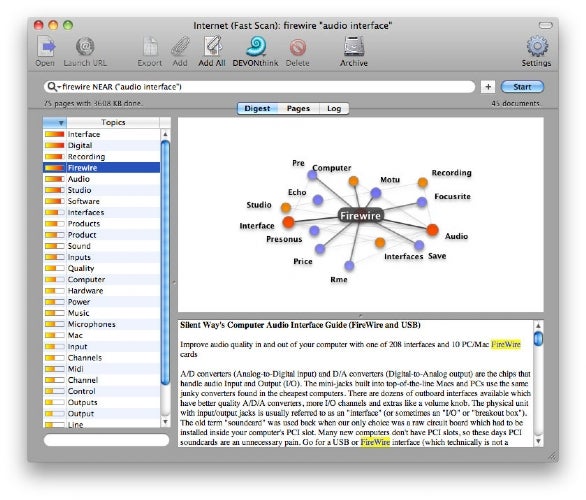 4. A minimalistic experience
If you want to focus entirely on Web pages themselves, with a minimum of distracting buttons, icons, and other doohickeys, Camino ( ) and DevonAgent are notable for their sparse, uncluttered designs. (Another interesting option is Google Chrome, now in beta, which offers a remarkably simple, clean browsing experience without sacrificing power or speed.)
5. Everything but the kitchen sink
If you like more instead of less, at the opposite end of the spectrum there's Opera. It integrates an RSS reader, e-mail client, IRC client, and newsgroup reader, to say nothing of Web development tools, all in a single application. If you want the broadest set of capabilities from the fewest applications, this heavy-duty multitasker can almost certainly get the job done.
Senior Contributor Joe Kissell is the senior editor of TidBits and author of numerous ebooks about OS X.