Thanks to a lively market of third-party Web browsers, it's not at all uncommon for Mac users to move back and forth between different browsers. For example, I regularly switch between Apple's Safari and Mozilla Firefox over the course of the day, using each for different tasks—and occasionally open any of ten or so other browsers when I want to use one of the features it excels at.
Once you've decided to use more than one browser, you can treat each one independently (giving each distinct settings and bookmark lists) if you prefer. However, unless you dedicate each browser to a specific site or task (for example, to increase your security), you'll probably want to share at least some kinds of information between browsers. Here are the top areas where you'll want to keep your browsers in sync:
Passwords
If you let Safari remember user names and passwords for Web sites you visit (choose Safari -> Preferences, click AutoFill, and select the User Names And Passwords checkbox), it stores this information in your keychain. Other WebKit-based browsers such as The Omni Group's free OmniWeb ( ) (and Devon Technologies' $50 DevonAgent ( ) can then access those same credentials, and so can Camino (even though it uses the Gecko rendering engine). However, all the other Gecko-based browsers—including Firefox and Flock ( )—store credentials independently, as does Opera 10 ( ).
If you want a single, system-wide repository for Web site passwords that works in virtually every browser, install Agile Web Software's $40 1Password, which supports most popular browsers (as well as the RSS reader NetNewsWire) and also includes tools for creating strong passwords, storing secure notes, and keeping track of data such as software licenses and credit card and bank account information.
Bookmarks
Every Web browser has some way of storing bookmarks, but ordinarily each browser maintains its own list. Sure, you can generally export and import bookmark lists between browsers, but keeping them dynamically in sync is a pain if you do it manually. Fortunately, several automated aids are available.
If you use only Safari, Firefox, or both, the free Xmarks software (formerly known as Foxmarks) syncs bookmarks not only between browsers but also between computers you own (Mac or PC), and it even lets you access your bookmarks on the Web from someone else's computer.
If you use browsers other than Safari and Firefox, one easy way to make sure every browser looks at the same list of bookmarks is to forgo built-in bookmark capabilities altogether and instead use a system-wide utility such as Celmaro's $22 Webbla or Happy Apps' $25 WebnoteHappy. Both programs let you add, edit, and retrieve bookmarks from nearly any browser using either keyboard shortcuts or a bookmarklet.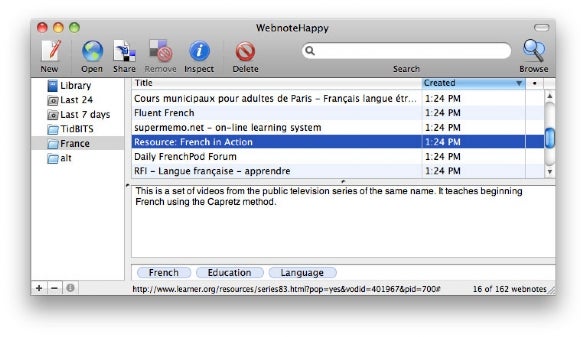 Downloads
Most, but not all, browsers come preconfigured to use your main Downloads folder (Users/yourusername/Downloads) by default. But you should check to make sure that each browser you use is set to store downloads in the same place (whether or not it's the default location) to avoid the need to remember multiple download locations and the potential to misplace files. This setting is typically found in the browser's preferences.
Default browser
Finally, although you can switch between browsers whenever you want, only one can be your default browser. That means it's the one that opens when you click a URL in another application (such as Apple's Preview or Mail). To change the default browser, open Safari, choose Safari -> Preferences, click on General, and choose a browser from the Default Web Browser pop-up menu.
Joe Kissell is the senior editor of TidBits and the author of numerous e-books about OS X.