At a Glance
Expert's Rating
Pros
10X optical zoom
Quick shutter on individual shots
Very good still-image quality
Cons
No wide-angle capabilities
Shutter lag between shots
Mediocre video quality
Our Verdict
The 12-megapixel Kodak EasyShare Z950 is an easy-to-use pocket megazoom camera with an impressive list of advanced features. In addition to a 10X-optical-zoom lens, it has exposure bracketing, shutter priority, aperture priority, high ISO, and high-definition 720p video capture. But while the zoom lived up to expectations, the video quality did not.
The Z950's bricky, all-black design won't win any awards, but you could consider it a bit retro; it reminded me of my first 35mm camera from childhood. Though the Z950 has a 3-inch LCD, it lacks an optical viewfinder.
Its rechargeable battery, in our testing, lasted 274 shots. That's a little short of the 300-plus-shot count we've seen from the majority of today's point-and-shoot cameras; and considering that many cameras reach 500 shots (the point at which we stop counting) on a single charge, this camera's battery performance is a little underwhelming.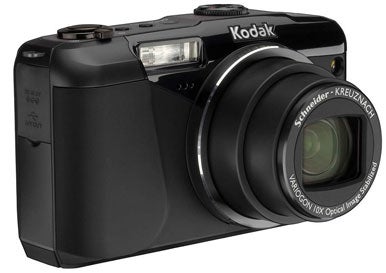 The Z950 comes with 32MB of internal memory, as well as an SDHC/SD card slot. Its Schneider-Kreuznach Variogon optical-zoom lens is skimpy on the wide-angle end, but it offers focal lengths from 35mm to 350mm and aperture settings from f/3.5 to f/4.8.
A nine-position dial on the top of the camera allows you to select modes such as Program, Aperture Priority, Shutter Priority, Manual, Movie, and Sports. The Scene mode has 17 presets to help with conditions such as snow, beaches, self-portraits, and fireworks. A mode that Kodak calls Smart Capture automatically analyzes the scene and picks the appropriate settings.
Small buttons on the top of the camera give you easy access to flash and timer settings. Kodak claims fast capture speeds with the Z950, which is true when the camera is taking single shots. But when I tried taking multiple shots at one time, I found myself waiting for the camera to finish processing before I could take another picture.
The photos had pleasing color and captured plenty of detail. In fact, our labs tests found the Z950 to have some of the best color accuracy and overall image quality in its class. Flash exposure quality and sharpness were its weak spots; nevertheless, the Z950's overall image quality still earned a rating of Very Good.
The Z950 boasts high-definition 720p video capture, recorded as MPEG-4 clips at 30 frames per second. Unfortunately, the footage I captured was too jumpy and shaky. Colors were off during filming, too, and highlights were blown out entirely. Video capabilities are nice to have on a point-and-shoot camera, but you should look to the Z950 as a video camera only when no other video camera is around—it isn't a great replacement for a dedicated high-definition camcorder.
Macworld's buying advice
As a still camera, the Kodak EasyShare Z950 shines, with impressive color quality, crisp images, and a powerful 10X optical zoom. It's a great sub-$300 choice for beginners and intermediate shooters who'd like to experiment with more-advanced controls. The only major disappointment was its mediocre video quality.
[James Galbraith is Macworld's lab director.]