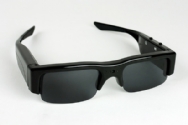 Want a little present from Q branch this season? Photojojo, seller of Photoshop fridge magnets, has stuffed a tiny digital camera and microphone into a pair of glasses. They call this particular hybrid of modern technology and nerd chic You-Vision Video Glasses.
The glasses record video from a lens hidden in the bridge, which is controlled by tiny buttons on the unusually thick earpiece. A rechargeable lithium battery powers the glasses for a maximum of five hours, which is about as much video as you can store on the 2GB of flash memory that it has. After you're done creating your tiny, first-person masterpiece, videos can be downloaded to your Mac or PC with a USB cable.
Unfortunately, the quality of the video from the glasses is a bit lacking. At 320 x 240 resolution at up to 25 frames per second, the video is half the size and a bit lower quality than video recorded from an iPod Nano.
But for what it lacks in specs, it makes up for in cool. What other camera glasses do you know of that come with suave, UV-protected lenses and clear lenses that allow you to nerd it up? That cost $150 and come with a case and cleaning cloth?
Exactly.