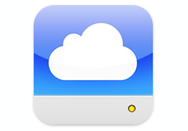 Apple updated its MobileMe iDisk application for the iPhone to version 1.1 on Tuesday, adding some new features and resolving existing issues.
In addition to "various" bugfixes, the new release includes a number of improvements, such as faster downloads, support for copying and pasting images stored on your iDisk into other iPhone apps, auto-completion of e-mail addresses when sharing files through e-mail, and localization in twelve new languages.
The MobileMe iDisk app makes it possible for users to access their MobileMe cloud storage from their iPhone or iPod touch and either view the files stored on it (if they're of a supported format) or share them with other users via e-mail (in which case the files are e-mailed directly from the MobileMe servers, without being downloaded on the iPhone first). Users can also view the Public folders of other MobileMe subscribers.
The app can be downloaded for free from the AppStore, but naturally requires a valid MobileMe account in order to access the data. It works on any iPhone or iPod touch running iPhone OS 3.0 or later. Version 1.1 is Apple's first update to MobileMe iDisk since its initial release this past July.