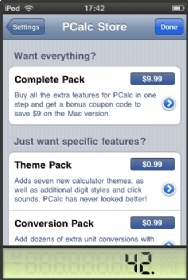 You know what makes a great gift for the holidays? Calculators. Especially if you've got a math or stats geek on your Christmas list. Just slip a TI-83 or a classic HP under the tree, sit back, and see your friends and family beam with joy. Hey, it sure beats socks.
But what if you want a calculator that does only what you need right now, and lets you buy features to do the fancier stuff later? That's exactly what you get from TLA Systems's PCalc Lite 1.9 for iPhone and iPod Touch.
PCalc Lite, which requires iPhone OS 3.0 or later, has always been and continues to be free. But now, there's a brand spanking new PCalc Store under Settings that allows you to buy collections of features for just $1 to $3 each. Each pack has a comprehensive description with screenshots, accessible by tapping the little blue arrow next to each expansion pack's summary. Choose between packs tailor-made for engineers or programmers, or individual features like more unit conversions, themes, multi-line display, and those beloved fiddly settings that power users can't do without.
What if you decide that you want all the calculator goodness you can handle? My friend, PCalc Lite has you covered. Get everything that the full version of PCalc has with the Complete Pack, and you'll receive a coupon code to save $9 off of the Mac version.
Think it's crazy? Hey, I know of a few folks encumbered by numbers who would love to have something like this. PCalc Lite is available now in the App Store.