At a Glance
Expert's Rating
Pros
Ruggedized exterior
Excellent call quality
Cons
Camera flash may cause bright spots
Subpar Web browser
Our Verdict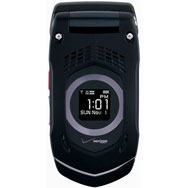 Style with substance (a few layers of protective substance) is what Casio's G'zOne Rock mobile phone is all about. This toughened phone is aimed at outdoors enthusiasts who appreciate features such as an electronic compass, a tide calculator, and push-to-talk services but want their rugged handset not to look the part.
External and internal shock absorbers and a textured, rubberized back give the 4.4-ounce phone a solid, sure feel; large, exposed screws give the impression of a handset that can take a rough-and-tumble life. Some users will appreciate the Rock's roomy, responsive keypad buttons, as well as the large digits that appear on the screen during dialing. The left side of the phone has a standard headset jack, a red push-to-talk button (requires a compatible service plan), a volume rocker switch, and a programmable key that defaults to the Rock's utilities menu. The right side offers charging contacts and a mini-USB port.
While the sculpted matte-black clamshell-style phone is long on features aimed at hikers and anglers, it also does a competent job with its more basic functions. The Rock is built to military specifications (MIL-STD-810F) in terms of its ability to withstand drops and extreme temperatures, as well as its resistance to dust and humidity.
In my casual tests, call quality was very good, with ample volume and enough sidetone (a bit of your own voice that transmits back to the earpiece to discourage you from shouting) to make the Rock sound more like a corded home phone than a mobile phone. The speakerphone was especially potent—volume was not a problem. That's to be expected from a handset designed for frequent outdoor use.
The Rock has some useful features to help you get up and running, such as a slideshow with a voice track that introduces you to the phone's e-mail functions and to Verizon's VZ Navigator turn-by-turn navigation utility. A short wizard helps you set up ringer defaults, menu layouts, and other basic items.
Browsing the Web on the Rock's 2.1-inch, 240-by-320-pixel, 65,000-color screen by using the unit's rocker button and center mouse key is adequate, but it doesn't compare to the smooth Web surfing of, say, an iPhone or an Android handset. The browser offers preloaded links to sites optimized for mobile phones.
The Rock has a handy and bright 0.9-inch external monochrome screen that displays the time while the phone is idle or Caller ID data when a call comes in. Though it supports instant messaging, the Rock doesn't have a QWERTY keypad and isn't otherwise optimized for text-happy users.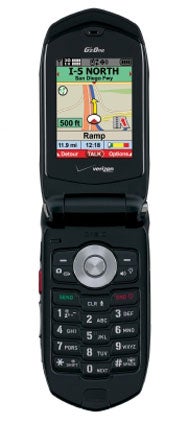 According to Casio, the Rock's lithium ion battery provides up to 5 hours of talk time and 630 hours (26.25 days) of standby time. The phone supports stereo Bluetooth wireless devices, has a GPS receiver, and runs on the Verizon Wireless 3G high-speed data network, but does not offer Wi-Fi.
A button on the bottom-left side opens the G'zGear utilities menu, which includes an electronic compass, a pedometer, a thermometer, an ocean-tide calculator, a sunrise and sunset guide, and an astro calendar. These utilities continue working via the external display when the phone is closed.
Images I took with the 2-megapixel camera were acceptable for a cell phone, but the flash tended to create bright spots. The phone includes 64MB of internal memory, but you can expand that by adding a microSD memory card.
As a phone that can go from a fishing trip to the boardroom to the hip pocket of a hopeless klutz, the Casio G'zOne Rock holds its own, but it won't wow people who need better text or Web connectivity.