PDF files are practical and easy to work with, not only because they retain the layout of your documents, but also because users on any platform can view them. When you want to share documents with others, even if they don't have the software you used to create the documents, PDFs are the natural choice. Here are four tricks everyone should know for using this versatile file format with OS X 10.6 (Snow Leopard).
1. E-mail PDFs with one click
Whenever you print something in OS X, you'll see a PDF button at the bottom of the Print dialog box. Click on this and choose Save As PDF to quickly save any document as a PDF. But that's not all you can do. Look again at this menu and you'll see you can also save and mail a document with a single menu selection. When you have a file you want to share, just press Command-P, click on the PDF button in the Print dialog box, and then choose Mail PDF. Your Mac will create the PDF, launch Mail (or your default e-mail program) if it's not already open, and then create a new message and add the PDF as an attachment. All you need to do is enter an address, subject, and some comments. Done!
2. Save a page (or three) from a PDF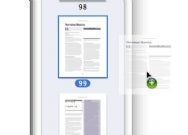 Sometimes when you're working with a large PDF document, you want to send only a page or two to a friend or colleague for review. It's a snap to save single pages, or even multiple pages, from a PDF. First, open the PDF in Preview (in your Applications folder). Reveal the sidebar by clicking on the Sidebar button on the Preview toolbar (or by pressing Command-Shift-D). You should see a thumbnail of every page in the document. If you don't, click on the second button from the left at the bottom of the sidebar (or press Command-Option-2). Find the page you want to save, and then drag its thumbnail from the sidebar to a Finder window or to your Desktop. If you want to drag multiple pages, select them (Shift-click to select adjacent pages, or Command-click to select non-contiguous pages) and them drag them the same way. Whatever you select and drag to the Finder will be saved as a PDF with the name PDF name(dragged).pdf.
3. Merge PDF pages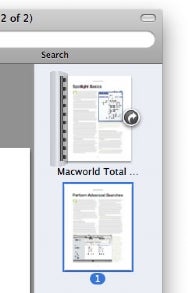 Sometimes you end up with a bunch of small PDFs that you'd like to put together as one file. This is easy to do, but the process has changed between OS X 10.5 (Leopard) and Snow Leopard. First open one of the PDFs with Preview, and display the sidebar with thumbnails (as described above). Under Leopard, you could just drag one PDF—be it a single or a multiple-page document—into place below another to add it to that file. Saving the document would save the two PDFs together as one. With Snow Leopard, however, there's a new trick that's not documented.
Instead of dragging the second PDF onto the sidebar below the first one, drag it on top of the first one. This changes the display of the first PDF in the sidebar.
Click on the arrow button to "close" or "open" the PDF, toggling between showing just its first page and all the pages it contains. This makes it easy to make sure you've put the documents in the right order. When you press Command-S to save the document, Preview will save the whole thing within the document of the first PDF file that you opened. (Alternatively, you can save it as new document by pressing Command-Shift-S and choosing a new name.)
4. Read PDFs more easily on a laptop
On the small screen of a laptop, PDFs formatted in portrait mode can be hard to read, especially if they contain multiple columns. It's a pain to scroll up and down to go from one column to the next. You can, however, read them like books on a laptop. In Preview, choose Tools -> Rotate Left or Rotate Right. Now you can hold your laptop like a book (screen in one hand; keyboard in the other). Flip the laptop to choose which side you want the screen on for easy reading.
If you use Adobe's free Adobe Reader, you can go one step further. Choose View -> Rotate View -> Clockwise (or Counterclockwise), then press Command-L to enter full-screen mode. Flip pages by pressing the spacebar, or go back a page by pressing Shift-spacebar. You can read PDFs like this without the distraction of menus and toolbars, and make the content as big as your screen can hold.
Senior contributor Kirk McElhearn writes about more than just Macs on his blog Kirkville.