Belkin on Wednesday unveiled its new Bluetooth Music Receiver, a $50 device that lets you wirelessly stream music from your iPhone or iPod to your stereo. Since it lets you use your existing stereo setup, you don't need to buy separate Bluetooth speakers.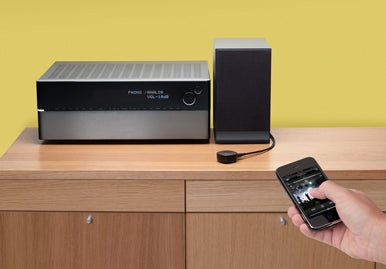 According to Belkin, you'll simply connect the receiver to your stereo, either to a 3.5mm or RCA input, sync up your A2DP-compatabile stereo Bluetooth device, and the music will start flowing. All models of the iPhone and the iPod touch 2G support A2DP stereo Bluetooth, as do many other devices that I find much less fascinating.
The Bluetooth Music Receiver is available now in the U.S., and will be coming to those in Canada, Europe, Asia, and Australia in March 2010.