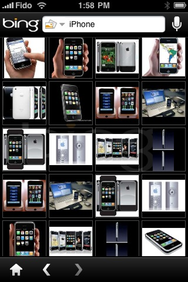 Microsoft's new Bing app makes its debut in the App Store on Wednesday, bringing the many facets of Web search supported by the company's Bing search engine to the tips of your fingers.
The app, which is available free of charge, supports straight Web searches (and even provides suggestions as you type search terms), as well as other specialized queries supported by Bing, such as images, videos, maps, business locations, and news.
Despite the fact that Microsoft has made no distinction between Bing (the app) and Bing (the search engine), its new offering is a full-fledged native app that takes advantage of the iPhone's geolocation capabilities to provide access to local searches. Like its major competitor, the recently-updated Google Mobile App, it also supports voice searches, although these seem to be a little crash-prone. The app's map interface provides several useful tools, including local traffic and step-by-step directions.
If you're thinking that Microsoft publishing an app for the iPhone is a sign of the coming Apocalypse, it's worth noting that Bing is not Redmond's first foray into Apple appdom: the software giant has previously released Seadragon Mobile, which enables iPhone users to explore photographs using the company's Deep Zoom technology.
Bing works with any iPhone or second-generation (or later) iPod touch running iPhone OS 3.0 or later.