Headline writing is as much an art as a science, and truly funny headline writing is a rare art indeed. The intrepid journalists at the Onion have been writing brilliant, rip-roaringly funny headlines for more than a decade. And now America's Finest News Source has produced the Onion Microfiche Headline Reader app for the iPhone and iPod touch.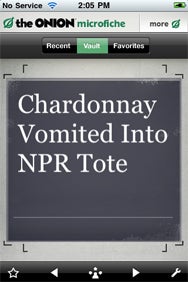 The app lets you scroll through "dozens, hundreds, even thousands" of headlines that may or may not have appeared in the Onion or Onion-related products. ("Dozens" is actually closer to the truth.)
And that's it. If you want to read articles, go to the Web site because there isn't an app for that.
If it sounds dumb, well, it is pretty dumb, especially coming from the people who published a book called Our Dumb Century. But the production values are exquisite. You can browse recent headlines or peruse the "vault." You may actually believe you're scrolling through headlines on an old-fashioned Microfiche reader. There are even sound effects.
And, it turns out, it's pretty funny, too. (I received some strange looks at the coffee shop I was in when I burst out laughing at headlines like "Telescope Used To Observe Origins of Human Life," and "Woman On TV Gives Birth To Four-Month-Old Baby.")
The interface is simple and splendid. And because the Onion media empire is hip to technological innovation, the app lets you e-mail headlines to your pals or share your discoveries on Twitter and Facebook. You can also save your favorites to enjoy again and again and again.
But, oh Lordy, is the app ever slow to load. And you need an Internet connection—whether it's Wi-Fi, 3G, or EDGE—to use this time-waster app.
[Ben Boychuk is a columnist and freelance writer in Rialto, Calif. Feel free to e-mail him.]