There's a lot of misinformation floating around about the iTunes/iPod/iPhone ecosystem. Here's a truthful look at a few of the more popular notions out there. Are there others that you hear people talking about? Share them in the comments.
1. The iTunes Store uses digital rights management (DRM) technology to restrict the use of music that I buy.
When Apple launched the then-named iTunes Music Store in April 2003, it employed Apple's FairPlay DRM that determined how many Macs (there was no Windows support at launch) you could play purchased AAC audio files on, and restricted usage to iTunes and iPods. Four years later, Apple began offering the option to purchase some songs and albums without DRM in a format called iTunes Plus. Then in April 2009 Apple finally moved to a completely DRM-free catalog.

So, if you purchased any iTunes Plus tracks between 2007 and early 2009, or any tracks after the DRM-free transition, your music has no restrictions on usage. If you own any FairPlay-encumbered music, however, the DRM remains. You can, however, upgrade your music to DRM-free by clicking the iTunes Plus link on the iTunes Store. From there you can choose to upgrade individual albums, individually purchased tracks, or your entire library. Besides removing the DRM, the updated tracks also double the bit rate from 128 Kbps to 256 Kbps.
Remember, though, that your Apple ID is still embedded in every track you buy.
2. AAC is a proprietary Apple format, and only works in iTunes or on an iPod or iPhone.
AAC, or Advanced Audio Coding, is a compression standard developed by the MPEG group and considered to be the replacement for MP3. Apple uses it for all music sold on the iTunes Store, but it works on a lot more hardware and software than just Apple's iTunes/iPod/iPhone combo.
Microsoft's Zune and Sony's Walkman players support AAC, for example, as do many Sony Ericsson phones, the Sony PlayStation and PSP, streaming audio systems such as Sonos and Squeezebox products, and many software players.
3. I can't burn an audio CD from iTunes tracks.
From the very beginning, Apple has allowed you to create standard audio CDs from your purchased iTunes tracks that would play in any CD player. The only restriction was the number of times you could burn an individual playlist. But you could get around that limitation by simply creating a new playlist. DRM-free files have no such restrictions placed on them.
4. I can't get my DVDs into iTunes or play them on an iPod.
Because of the copy protection on commercial DVDs (and the Digital Millennium Copyright Act), you can't stick a DVD into your Mac, launch iTunes, and press a button to convert it to an iPod- and iPhone-friendly format. But that doesn't mean it can't be done.
Using a free tool such as HandBrake, you can circumvent the copy protection of most DVDs and convert them to iTunes/Apple TV/iPod/iPhone-friendly formats. If HandBrake can't handle it—which happens with some newer DVDs—you can use the $20 RipIt to first create an unprotected version of the DVD on your hard drive and then transcode it using HandBrake.
5. I can't connect my iPod/iPhone to my TV to play videos.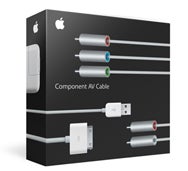 Although there's nothing in the iPod or iPhone box that lets you do so, Apple offers a few options for connecting your portable device to your TV for playback.
The Apple Component AV Cable and Apple Composite AV Cable ($49 each) plug into the Dock connector on your iPod, iPhone, or universal dock and provide connections on the other end to plug into your TV. As an added bonus, earch package also includes a USB power adapter in the box, normally a $29 purchase.