Looking to enjoy your EyeTV live broadcasts and recordings on your iPhone, without having to be connected to a Wi-Fi network? Then, my friend, you're in luck. Elgato's EyeTV 3.3 software update released Wednesday brings with it the ability to stream EyeTV content from your Mac to your iPhone using a 3G data connection.
Streaming requires the Live3G Web app that you access via the iPhone's Safari browser. It streams video using Apple's HTTP Live Streaming technology. (With EyeTV 3.2, Elgato released an iPhone app that allowed similar streaming, but only over a Wi-Fi connection. The iPhone app offers additional features that the Web app doesn't.) The free Live3G Web app requires an iPhone or iPod touch running iPhone OS 3.1, and an Intel Core Duo Mac or better.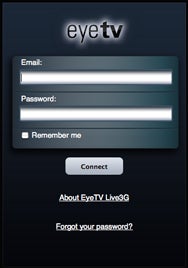 The EyeTV 3.3 update also runs its H.264 video decoder as a 64-bit process, which Elgato says improves playback performance on 64-bit Intel Macs by 10 percent to 20 percent. The update also adds a Drop Field deinterlacing option for users watching HD video on slower computers. The software also improves stability, scrolling in overlay menus, channel name detection for some Clear QAM cable systems, digital audio output, and support for international standards such as PAL. It also addresses specific issues with the new Apple Remote under OS X 10.6.2, as well with the AirPort Express and Rogue Amoeba's Airfoil application.
EyeTV is a popular TV tuning application that works in conjuction with hardware such as the EyeTV Hybrid to let your Mac work as a DVR—you can watch and pause live television, record programs on a hard drive, edit content, and export recordings to iTunes.
The EyeTV 3.3 update is free for current users of EyeTV 3.