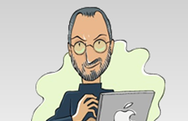 With iPhone owners becoming increasingly vociferous about their happiness with mandated carrier partner AT&T, it seems only a matter of time before Steve Jobs weighed in on the situation. But the Apple CEO is notoriously judicious about what issues he addresses publicly, so it's not exactly a surprise that he was beaten to the punch by the more vocal and arguably more irascible Fake Steve Jobs.
Behind the pseudonym may lurk Newsweek tech columnist Dan Lyons, but the diatribe, which began recently in a fictional chat with AT&T CEO Randall Stephenson (contains strong language), is vintage Fake Steve. It starts off simply enough with Lyons knocking AT&T for failing to provide adequate network capacity for iPhone users, adds a dash of choice words regarding AT&T Mobility CEO Ralph de la Vega's comments advising iPhone users to cut back on data, and then blossoms into a full-fledged tour de force on the state of American industry and innovation:
And now here we are. Right here in your own backyard, an American company creates a brilliant phone, and that company hands it to you, and gives you an exclusive deal to carry it — and all you guys can do is complain about how much people want to use it. You, Randall Stephenson, and your lazy stupid company — you are the problem. You are what's wrong with this country.
Words were not sufficient for Lyons's wrath, however, and he took it to the next step by advocating direct action in the form of something he dubbed Operation Chokehold. The idea was for iPhone users to band together and show their displeasure with AT&T by trying to overload the company's network. The idea, which essentially amounts to a distributed denial of service attack, involved running bandwidth-intensive applications during a one-hour period on Friday, December 18.
That suggestion got plenty of play, especially from disgruntled AT&T customers on social networks like Facebook and Twitter, prompting a statement from AT&T that called Lyons's campaign "irresponsible and pointless" and claimed—in a mastery of contradictory thinking—that the idea would both have little effect and that it could interfere with critical communications.
Lyons did take a step back in a subsequent post, saying that he considered the amount of press that the Chokehold had gotten—including a story in the Wall Street Journal —to be "mission accomplished." Still, he didn't let up on AT&T, deriding the company's network for its self-admitted lack of reliability in major metropolitan areas such as New York City and knocking it for failing to spend its profits from the iPhone to improve infrastructure.
Most recently, Lyons has veered away from Chokehold towards alternative suggestions for iPhone customers who want to show their displeasure over AT&T's service, including mass boycotting of iPhones at a specified time or protesting in front of AT&T stores.
But all of Fake Steve's bloviating raises the question: whither the real Steve Jobs? Lyons's Fake Steve persona is based largely on Jobs's reputation of being highly demanding, absolutely committed to quality, and intolerant of ineptitude. While we hope Jobs is watching this whole situation with at least a degree of amusement, it seems likely that at least part of him is seething at the negative impact that AT&T has had on the iPhone—not to mention the occasional finger-pointing at the device itself.
So far, the only dings against AT&T from the Apple court have been passive-agressive at most, such as when the wireless provider was twice booed byt he audience during Apple's Worldwide Developers Conference keynote last June. Of course, since nobody knows for sure when the deal joining Apple and AT&T at the hip expires, it could just be that the real Jobs is merely biding his time and staying mum until Apple can bail out of AT&T's sinking ship for wide open seas.