Users of the recently released Dragon Dictation speech-to-text app for the iPhone can now opt out of uploading contact names to the app's servers. Developer Nuance Communications announced the new privacy setting Tuesday in response to user concerns about providing contact data.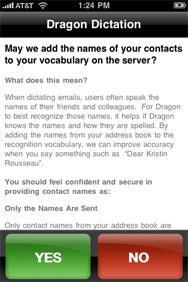 Launched last week, Dragon Dictation lets iPhone users compose e-mail or text messages with their voice. The app, which uses Nuance's Naturally Speaking speech-recognition technology, also lets users convert speech into text for pasting into other apps.
But the app raised the eyebrows of some users—including Macworld forum posters—by uploading all of the contacts stored on the iPhone to Nuance's servers. In a blog post last week, Michael Thompson, the senior vice president and general manager of Nuance Mobile, said that the reason the app did so was to improve the speech-to-text conversion process.
"We found that people are often dictating names from their address book and expect the names to be recognized," wrote Thompson, adding that the app only uploaded names and not e-mail addresses and phone numbers. "We take this information and create an anonymous user profile for your device that understands what names are likely to dictate into a document."
The original Dragon Dictation release included a description of how the app uploaded contacts, but that was included amid a fairly dense terms of service agreement. With the 1.1.0 update, a privacy setting screen now appears after you agree to the terms of service, asking if you'd like to upload your contacts to the server. You can change the privacy setting at any point via the applications settings tool—that will delete any contact names previously uploaded to Nuance's servers.
Nuance has posted more information about Dragon Dictation's privacy settings on its Website. The Dragon Dictation update is now available from the App Store. Nuance is offering Dragon Dictation for free right now; the app runs on any iPhone with the iPhone 3.1 OS software installed.