As someone who looks forward to exercise by not looking forward to it, I've always got an eye open for things to make my exercise sessions more interesting. Recently, I noticed Hannes Jensen's Run Stats in the App Store, and it looked intriguing.
Run Stats is designed to be used on your iPhone to track your running; it uses the iPhone's built-in GPS to track your run, recording time, distance, and the exact path you travel. When you're done running, you can view your route overlaid on a Google map, or see a graph of time per mile or elevation change over the course of the run. Given its low $1 cost, I thought I'd give it a try and see how well it worked.
The main Run Stats screen displays four icons—Run, History, Progress, and Settings. Tap Run to record a new run, History to see previous runs, Progress to see run lengths and minutes-per-mile charted over time, and Settings to change the units and map display type, as well as send history files via e-mail.
Tracking a run is simple; go to the Run screen, wait for the GPS signal to lock on, then tap Start. A Pause button lets you stop tracking while you wait out a light, for instance. Note that Run Stats must be running in the foreground to do its thing, so if you want to listen to music while running, you'll need to start your iPod app before launching Run Stats. (If you receive a call while running, you can return to Run Stats and tap a Resume button to restart the tracking.)
At the end of the run, tap Stop and Run Stats asks if you'd like to save the data. If you choose to save the run, you can then view it in the History section of the program (where you can also delete it in the future, if you'd rather not keep it around.)
I'd hoped to test out Run Stats with a few real-world runs, but the weather here in Oregon hasn't been conducive to that—I managed to get one in, but it's been raining steadily since then. That is, of course, one problem with apps like Run Stats—you need to take your iPhone with you on your run, which can be problematic in wetter climates.
Instead of waiting out the weather (which might take months!), I added some in-car trial runs to my one real-world run—and in the process, discovered that Run Stats works quite well for tracking trips via the car, too. In both my run and my in-car testing, Run Stats did an admirable job of tracking my progress; below is a map showing a trip I made in the car.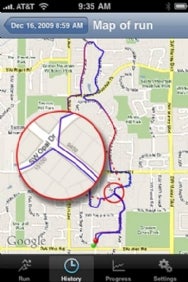 Note in the zoomed-in portion of the image that the iPhone's GPS was accurate enough to discern one side of the street from the other, which is impressive given these were narrow neighborhood streets. I also tested Run Stats' distance accuracy by plotting my running path manually in Google Maps (using the Ruler tool). Over the course of a three-mile run, the Run Stats distance figure was only two hundredths of a mile (about 105 feet) different than my calculation in Google Earth; that's more than good enough for my needs.
About my only real complaint about Run Stats is that there's no way—other than screenshots—to get these mapped runs out of the program. You can e-mail historical run data, but it doesn't include the position information. It'd be great if there were an export option available in Google Earth format, so you could transfer the maps to your Mac.
Run Stats' graphs are quite interesting; at first glance, they appear to just be generalized views of both your time per mile and elevation over time, because there are no units on the graphs. But place a finger on the graph, and you'll see a pop-up display showing both the exact time and the value for the position on the chart corresponding to your finger position.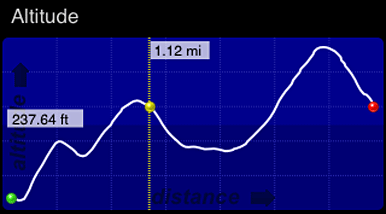 If you then drag your finger forward or backward, the pop-up values change to reflect the value at each point on the chart. This is a really interesting way to work back through a run and see at what times you were fastest, for instance. While the iPhone's GPS did a good job with positional accuracy, I can't say the same for its altitude calculations—the above graph shows a run that started and stopped at the same point, and yet somehow, my home got 50 feet higher while I was out running. Still, I find the inclusion of altitude information useful, even if it's somewhat off at the detail level.
As I mentioned, I've found Run Stats to be interesting to use in the car (it's kind of neat to leave it on while I run errands, for instance), and for other purposes that are clearly not runs. For example, I walk my daughter to school each morning, and I used Run Stats this morning to find out exactly how far it is (0.41 miles each way), and to confirm that I walk much quicker without my daughter than I do with her. If you're a data geek, you'll love all the information you can track with Run Stats.
Tracking all that data comes at a cost, however—using the GPS many times per minute will really drain an iPhone's battery in a hurry. I'm no marathoner, which is good, because I don't think the battery would last anywhere near the four-plus hours it might take me to run 26 miles. There's a noticeable drain even after a 30 to 45 minute run, but this isn't really Run Stats' fault, though—any app that reads the GPS regularly is going to have the same problems. In the car, I use Run Stats while connected to an in-car charger, which solves that problem.
If you're a serious runner, covering tens of miles a day, this is probably not the right app for you—you'd be better off with simple data capture via a Nike + iPod sport kit. But if you're a casual runner, or just one who likes to collect interesting data, Run Stats is easily worth its $1 cost.
[Senior editor Rob Griffiths edits MacOSXHints.com.]