It took Apple six months to edit down A.D.D. (Addictive Dumb Distractions), the long awaited release from Iugo Mobile Entertainment, to something suitable for the App Store. I can only imagine what obscenity it contained before.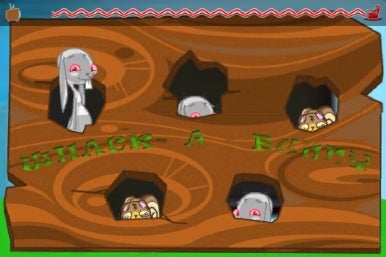 A.D.D. starts out innocuously. The home screen depicts a character with a TV for a head, and the whole game pretty much takes place inside that television. One can easily see the game as a tongue-in-cheek reference to the likely culprit for our collective cultural attention deficit. Sorry, what we were talking about again?
There are 70-plus individual games to plow through, and the basic idea is to play as many of them as quickly as possible (each has a timer of about 20 seconds) in order to increase your score. In addition to the sheer quantity of individual games and the intense urgency with which you play them, A.D.D. makes incredible use of the iPhone's full range of controls. Using either your fingers or the entire phone, you can touch, drag, flick, rotate, tilt, or shake the device to control the games. Each starts with a three-second welcome screen showing you the name of the game and which method you use to control it.
There are three modes of play. Quickplay allows you to pick up and put down the game if you've only got a minute or two to kill. In Practice, you unlock "channels" on the ubiquitous television by winning a certain number of games in a row (17 for the first channel, 23 for the second). Once you've unlocked all six channels, you can play in Hardcore mode.
The animation is akin to Cartoon Network shows like Dexter's Laboratory and Powerpuff Girls, and the humor ranges from innocently funny to completely disgusting. In "Booty Call," you have to dial some floozy's phone number as fast as you can. "Wrath of the Gods" lets you toast ants with a magnifying glass. And of course, there's "Pus Power"—by far the most disgusting—which forces you to graphically pop zits on some poor guy's face.
A.D.D. is certainly one of the more unique games the iTunes Store has to offer. It's easy to play and the unending stream of different games assures it'll never get dull. Just keep your sense of humor tuned to "crude."
[Meghann Myers is an editorial intern for Macworld.]