At a Glance
Expert's Rating
Pros
Setup isn't too complicated
Capably streams HD Flip videos from computer to HDTV
Cons
Web streaming requires a robust network connection
Pricey for what it does
Our Verdict
Cisco's pocket-size Flip Video camcorders—such as the Flip MinoHD ( )—achieved widespread popularity by making the process of capturing video and posting it to YouTube incredibly easy. Now, a companion set-top box seeks to make viewing those videos—either your own or those shared over the Internet on Flip's FlipChannel service—on your HDTV almost equally effortless. But while the Cisco FlipShare TV can capably stream high-definition video from your hard drive, the quality of videos hosted online can vary widely. That's because the FlipShare TV streams all of its video from your computer through a peer-to-peer 802.11n Wi-Fi connection using an included, oversize USB dongle—and Internet video must first stream to your computer. This two-step process can easily introduce artifacts, especially if your computer's network connection is also wireless.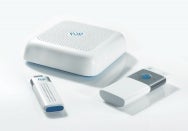 To set up the FlipShare TV, you start by attaching the USB dongle to your computer; the dongle then initiates an upgrade to the FlipShare software that all Flip camcorders install when you first connect them via their pop-up USB connector. Once the updated software and the drivers for the dongle are installed, you connect the small, white FlipShare TV box to your TV set, through its composite video or HDMI port. (The FlipShare TV comes with a composite video cable, but if you want the superior image and sound quality that HDMI can deliver, you must provide your own HDMI cable.)
When you plug in the box's AC adapter, a simple user interface appears on your TV set and lets you know when the box is communicating with the FlipShare software on your computer. In my tests I had to reboot the box (by disconnecting and reconnecting the AC adapter) before the confirmation messages appeared (on both the set and the computer software).
The FlipShare TV's included remote, about the size of the latest iPod nano ( ), lets you control video selection and playback using four navigation arrows and a Select button. A Menu button brings up your video source options: clips you've stored on your hard drive, videos that other users have made available to you by way of the FlipChannel feature (a sort of private YouTube alternative introduced last summer), and favorites that you can draw from either source.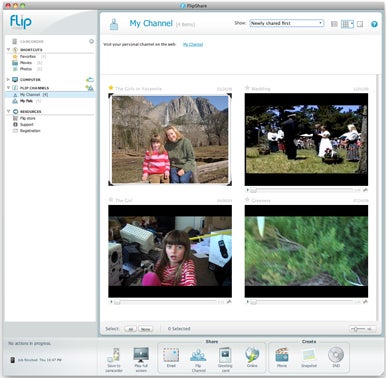 To create your own FlipChannel or to view other people's videos, you must create a FlipShare account via the computer's software; the service is free.
It's been erroneously reported that you can view only video shot with a Flip camcorder on a FlipShare TV. The FlipShare software is certainly particular about the kind of videos it's willing to import (and thus display via the FlipShare TV), but importing other video is possible. The software demands that Mac movies must be .mov files at a resolution of either 640 by 480 pixels or 1280 by 720 pixels, both at 30 frames per second, and limited to 70 minutes for 640 by 480 and 30 minutes for 1280 by 720. Importing a few .mp4 videos was unsuccessful.
I was impressed with the quality of the video and audio that the FlipShare TV streamed from my laptop's hard drive to my 1080p plasma HDTV. Colors were pleasingly bright, video was smooth, and voices and music sounded great. However, videos on a FlipChannel did not look as good, probably because of the additional network hops required to transmit the stream to my Wi-Fi-connected laptop and then to the FlipShare TV. I encountered stuttering and loss of audio in my tests—the same sorts of problems I've experienced trying to stream other Internet video services through my laptop to a TV.
Macworld's buying advice
I'd be cautious about recommending the FlipShare TV to people who are primarily interested in viewing FlipChannel content over a Wi-Fi-connected computer, especially in a crowded environment where many Wi-Fi networks may be battling for limited bandwidth. But for Flip camcorder fans who are willing to pay handsomely to view their own videos on a big screen (or for people whose computers are on a wired network), the FlipShare TV does the job quite well.
[Macworld senior editor Christopher Breen contributed to this review.]