On Wednesday, Apple released Digital Camera Raw Compatibility Update 2.7, designed to extend RAW image compatibility for Aperture 2, iPhoto '08 and iPhoto '09.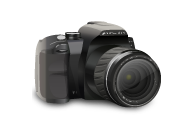 The small update adds support for six cameras: Canon EOS-1D Mark IV, Canon EOS 7D, Canon PowerShot G11, Nikon D3S, Nikon D300S, and Nikon D3000.
At the time this story was posted, the update had appeared in Software Update on a few Macs in the office, but was not listed on Apple's Support Downloads page.