At a Glance
Expert's Rating
Pros
Handy Pro Focus and Natural & Flash modes
Same EXR sensor and modes as higher-end cameras
Cons
Only two f-stops in aperture settings
Body design is hard to hold
Our Verdict
Fujifilm's FinePix F70EXR is about as compact as cameras get, yet it somehow serves up a 10X-optical-zoom lens (spanning from 27mm to 270mm), dual image stabilization, and a 10-megapixel sensor. It generally emphasizes pocketability rather than advanced features, but despite the F70EXR's diminutive size, it manages to showcase a surprising number of advanced exposure controls.
What makes this camera much more than your average pocket megazoom is the fact that Fujifilm built this camera around the EXR sensor also found in the FinePix F200EXR ( ). This sensor can create a standard 10-megapixel image, of course, but it can also reconfigure itself (by combining information from adjacent sensor sites) to take 5-megapixel images that offer improved low-light sensitivity or improved dynamic range.
You can treat EXR mode like an advanced Program mode setting; it'll choose the right EXR effect (full resolution, low light, or dynamic range) depending on the situation. You can also dial in the mode you want directly. EXR mode is effective, but often very subtle. When shooting in EXR mode, you need to weigh the advantages of exposure settings versus the loss of resolution.
The F70EXR includes a few other shooting modes designed to help you eke out superb photos with minimal effort. The Natural & Flash mode, for example, is sort of like a flash bracketing mode: It takes two images back to back, one with the flash enabled and one without. I found this to be the single most useful mode in the F70EXR, because it simplifies a huge problem that photographers commonly face: Flash or no flash? Now you get both, and you can just pick the better photo afterward.
Another cool feature is Pro Focus, which makes it easy for anyone to get the classic portrait effect of a sharp subject and a blurry background. This isn't just a matter of shooting with a wide open aperture; the camera actually takes a pair of photos with different aperture settings and combines them into a single composite shot. When it works, it's pretty neat. But I found that the camera balked more often than not, complaining that it could not create the effect (presumably because I hadn't put enough distance between the camera and the subject, or the subject and the background).
In addition to the special exposure modes, you'll find a standard Program mode and full Manual. You choose from the usual assortment of scene modes, including portrait, beach, sports, and night, through the on-screen menu. That keeps the physical controls very simple; the command wheel, for example, has only about a half dozen settings.
One oddball button, called F-mode, is a sort of feature overflow through which you can set ISO (all the way up to 12800), set the size and aspect ratio of your photos, and access a film simulation mode that lets you set the color response and saturation of your photos using the names of old 35mm film standards. (Velvia mode, for example, has a high color saturation and is great for nature photos. Thank goodness the camera gives you on-screen help to explain these options, since most of today's photographers probably never used any of the old films.)
In our lab's imaging tests, the FinePix F70EXR earned an overall photo-quality rating on a par with that of its early-2009 predecessor, the FinePix F200EXR. The F70EXR's strengths included color accuracy and lack of distortion; it didn't score as highly in sharpness and flash exposure quality. Overall it received an imaging score of Good.
In battery-life tests, the F70EXR received a mark of Very Good, taking 322 shots per charge of its included lithium ion battery. We've seen examples of better battery life in 2009 point-and-shoots, but that 320-plus-shot count still puts this model among the top performers of the year.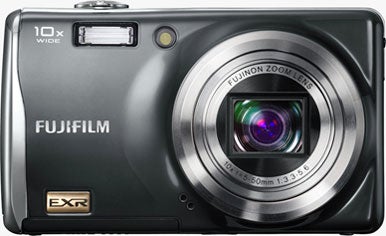 The F70EXR makes fewer compromises than you'd expect in a camera of this size. On the minus side, the F70EXR captures video, but only at a maximum of 640 by 480 pixels (shot at 30 frames per second and saved as AVI files). More frustrating is the fact that the camera has just two f-stops for aperture settings (f3.3 and f5.6–that's it). On the plus side, the camera's continuous shooting mode is so fast that you'd swear you were using a digital SLR. It's easily up to the task of shooting a sporting event.
The camera itself is very compact—almost too compact. When I wrapped my fingers around the body, I tended to obscure the lens or the flash; those with smaller hands may fare better. I also found the exterior just a little slippery, so you'll want to use the wrist strap. Of course, no camera this size will include an optical viewfinder, but the F70EXR's 2.7-inch LCD was bright enough that I never had trouble seeing my subject, even outdoors.
Macworld's buying advice
It isn't often that you encounter such a tiny camera that aspires to be so much more. The EXR sensor, combined with its wide array of features that make advanced shooting techniques accessible, make the Fujifilm FinePix F70EXR a compelling option as both a pocket megazoom and as an everyday compact camera.