CalenGoo from Dominique Adur Gunia provides the Google Calendar integration you've been looking for.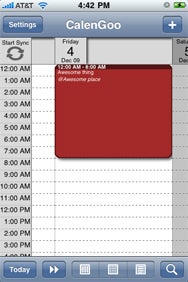 Let's say, hypothetically, you've got a busy life—a far fetched idea these days, I know. So you need to upgrade from the flower-themed day planner you got for Christmas last year and you jump aboard the Google Calendar bandwagon. At the same time, you need this calendar wherever you go. The built-in Google App support doesn't give you enough control, and neither does the mobile Web version. The iCal and Google Calendar syncing doesn't work like a finely tuned Swiss watch just yet. So what is a social butterfly such as yourself to do? I'd say check out CalenGoo, an impressive integration of Google Calendar on the go.
The first thing you'll notice with CalenGoo is the various views and general elasticity of the interface. Your calendar can appear as columns, a grid, a list, or a day-by-day view. An update, released in the last week, adds a landscape mode for day view that shows a whole week at a glance in the style of the day view.
You navigate between the different views by tapping the choices at the bottom, entering a certain date, or double tapping the day. All of this works in both portrait or landscape mode and makes use of the iPhone's multitouch capabilities, letting you pinch to zoom events and swipe to move between days and months.
Opening the settings really sheds light on how flexible and well thought-out this app is. You can change nearly everything from all the colors displayed in the interface to how often it syncs to the calendar. You can also set how to manage time zones and even how to access events.
Adding new events provides the same sort of easy experience you'd get inside iCal, but with all of the added functionality of Google Calendar at your fingertips, such as inviting folks to events and pulling contacts from your address book to add attendees. You can copy with one tap. Displaying the location of an event takes you into the Maps application. A magnifying glass lets you access the search feature and a Today button brings you to the current date.
All changes made in the app are held until the next time you sync, and all data from the last download is cached. As a result, using Google calendar with no Internet connection is a breeze.
This app succeeds on many levels. It provides full control over the experience without overwhelming the user, and it just makes sense overall. CalenGoo provides the sort of connectedness that makes bouncing back and forth between your Google calendar online and the app itself seamless and trouble free.
If you'd like to be a bit more of a power user about it, an extensive tutorial is available via the developer's Website, making your transition to CalenGoo even smoother.
[Rob de la Cretaz is a full-time polymath and a proud resident of Pittsburgh.]