SpeedNote, a $2 app from DevLux, attempts to solve a problem that I just don't have, and does so in a way that's absolutely antithetical not only to how I use the iPhone, but to how I write.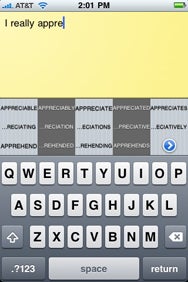 Let me explain: SpeedNote's central conceit is that it's hard to type fast on the iPhone. I won't rehash the entire virtual-versus-hardware keyboard debate holy war here; suffice it to say that the my typing speed on the iPhone feels as fast as it ever was on a series of BlackBerries. And a large part of that speed is thanks to the auto-correction built into the iPhone OS—I can tap anywhere in the vicinity of the letters I'm after, and "nsficakky" becomes "magically" automatically. (In fact, I long for such geographic autocorrection on the Mac.)
SpeedNote aims to improve your iPhone typing time differently, by presenting up to 14 words as you type, prefixed with the letters you've already entered. As you type "appre," suggestions will include "appreciable," "appreciably," and "appreciate." Longer words will get harshly truncated, presented like "…reciating" and "…eciatively," which is decidedly less useful. If you can find the word—no easy task, since they're displayed in a tiny font on a grid—you tap, and it's dropped into your text.
And that's where SpeedNote's other unfortunate weakness lies. The app includes a Sophie's Choice preference that toggles whether a space is added after a new word. Leave it enabled, and you lose access to the iPhone's "period after two spaces" trick, unless you delete the space added after the last word in your sentence. Turn it off, and you need to tap a space after choosing each suggested word—unintuitive, since again, that's not how the iPhone's auto-corrections work.
I don't need an app to speed up my iPhone typing. Even if I did, SpeedNote simply wouldn't be it.
[ Lex Friedman wrote this review with an actual keyboard.]