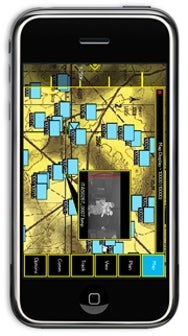 The military loves the iPod Touch, most famously for translation apps, but also for tasks such as calculating ballistics and sharing data. If defense contractor Raytheon has its way, we may soon see iPhones in the military as well. On Wednesday, Raytheon announced One Force Tracker, a military-grade app made to take advantage of the iPhone's specific technologies.
One Force Tracker's mission brief is as a "situational awareness application based on military messaging standards." It uses the iPhone's GPS features and a map of the battlefield to relay the position of units and display battle plans from a server in real time.
The app also features social-networking features to communicate battle plans, spot reports, call for an emergency, or even text message between soldiers. The New York Times claims that this system resembles social-networking sites such as Facebook. It's also been suggested that the app could be adopted for use by others, such as emergency first responder personnel.
While the app currently runs on an off-the-shelf iPhone, Raytheon will have to request that Apple make military-grade adjustments to the iPhone OS for this app to be useful on the battlefield. The GPS, in particular, would have to be reporting its position even when the app isn't open and visible to the user. More importantly, there would have to be a network running for iPhones wherever soldiers are deployed, which Apple would also have to support.
If Apple approves of Raytheon's changes, it would be the first widely-known occasion that Apple has authorized special accommodations for government since 1989's TEMPEST Macintosh SE/30.
[via TG Daily]