This holiday season, you may find yourself with an awful lot of spare time on your hands. That is, besides the cooking, cleaning, shopping, and shoveling snow that you're supposed to be doing. Ahem. So why not spend a little of that time enjoying some specially priced bundles of movies from the iTunes Store?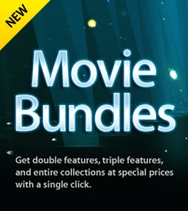 That's right—Apple has rolled out a Movie Bundles section, which pairs up popular films at discounted prices. You could get your fill of Patrick Swayze's Dirty Dancing with a Cuba-based prequel that's, well, okay. Enjoy the crime classics Reservoir Dogs and Bad Lieutenant in the Harvey Keitel Double Feature. Scream with terror as you bear witness to the horror of not one, but two Charlie's Angels films. There are also bundles for Dane Cook, Bad Boys, X-Men, Scarlett Johansson, pre-Governator Arnold Schwarzenegger, and more.
Prices for the bundles start at $10 to $15 for two films and rise up to $35 for as many as four films. The X-Men Quadrilogy, for example, runs $30 as a bundle, instead of $45 if purchased individually. While you can find most of these titles for much less at discount DVD stores, you still can't beat the convenience of digital downloads. No HandBrake required.