At a Glance
Expert's Rating
Pros
Super macro setting
Superb battery life
Color Accent mode
20X-optical-zoom lens (28mm to 560mm)
720p HD video recording
Cons
Slow burst mode (almost a second between shots)
Our Verdict
Canon's PowerShot SX20 IS has an impressive trio of headline features: a massive 20X optical zoom, a 12.1-megapixel sensor, and HD-quality video recording. If you're shopping for a bridge camera (a megazoom model that marries the simplicity of a point-and-shoot with the power and flexibility of a digital SLR) the SX20 IS should be near the top of your list.
This camera is quite similar to its older cousin, the PowerShot SX10 IS, sporting the same zoom lens, flip-out LCD, and Digic 4 processor as that model. However, the SX20 IS ups the ante with 720p HD video shooting capabilities, a 12.1-megapixel sensor (versus the SX10 IS's 10-megapixel sensor), and ISO equivalency settings up to 3200 (the SX10 IS maxes out at ISO 1600).
The SX20 IS has a compact, SLR-like grip and a collection of buttons that fall more or less naturally under your fingers. I appreciated the fact that the body was small enough that my pinkie automatically curled underneath for a steadier hold, but a rubberized surface would have made the whole camera feel more secure in users' hands.
The 20X zoom spans a huge focal range, from a slightly wide-angle 28mm to a deep 560mm telephoto. Canon has helpfully marked the lens barrel with various focal lengths, and the zoom control moves at two speeds depending on the pressure you apply with your finger.
The SX20 IS definitely accommodates close-up enthusiasts, too. Augmenting the standard macro mode is a super macro setting, which can focus on a subject that's touching the lens. You can take a sharp photo with the lens in physical contact with the subject; but in the real world, it's hard to get that close to your subject without the camera casting an ugly shadow. In super macro mode, the camera also locks you into wide-angle mode, so you can't zoom as you can in the standard macro mode. Regardless, it's a handy option when you need to be unnaturally close to your subject.
You have a full range of exposure options, including full auto (in which you can't affect any of the settings), program mode, aperture priority, shutter priority, manual, and more than a dozen scene modes. Especially entertaining is the Color Accent mode, which lets you isolate a single color in the photo and capture everything else in black and white.
The SX20 IS also has a Panorama Assist function, which helps to frame a series of photos for you to stitch together on the Mac, though you'll need to use your own stitching program, since the bundled PhotoStitch application is for Windows only. And the camera's ISO 3200 scene mode captures very-low-light images (albeit somewhat noisily) at reduced resolution.
For video, a dedicated record button lets you start and stop the action, and pressing the shutter adds a still image to the video in progress. You can trim the start and end points of the video in-camera, and the SX20 IS includes an HDMI port that makes it easy to play the video on a TV directly from the camera.
The SX20 IS's image quality is among the best we've seen for a point-and-shoot camera. In our lab's image evaluations, the camera earned a score of Superior, showing across-the-board excellence in overall image quality, sharpness, and color accuracy. What's more, its jury-tested rating for lack of distortion was among the best we've awarded to a point-and-shoot camera.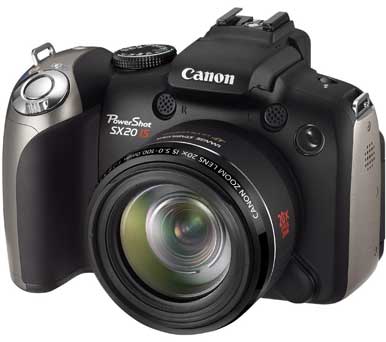 Battery life also doesn't get much better than this (in our lab's testing scenarios, at least). The SX20 IS fired off 500 shots on four fully charged AA batteries. That's the maximum amount of shots we test for, earning the PowerShot SX20 IS a battery life score of Superior.
The camera is seemingly full of innovative features, but some hit, and some miss. In addition to the usual exposure bracketing mode, the SX20 IS has focus bracketing; theoretically, the function helps you nail the focus point when using manual focus. It's a nice idea, but I found it confusing to configure.
Better implemented is a set of in-camera editing tools, such as red-eye and contrast adjustments that you can apply to your photos before they hit your Mac. And the LCD screen swivels in every conceivable direction, including off to the side and facing forward, the latter of which is great for self-portraits. Speaking of self-portraits, the camera has a self-timer mode that waits for an extra face to show up (presumably yours) before taking the photo.
Unfortunately, one shooting situation for which the SX20 IS isn't ideal is action photography. Despite the presence of a sports scene mode, the best this camera can manage is a little less than a second between shots, which was just too slow when I was trying to photograph some children and dogs running around in my yard. Nonetheless, the deep zoom covers almost any shooting situation you might encounter, and the built-in flash is respectably powerful, good for indoor shots and fill-flash duties outdoors. You can add an external flash, as well.
Macworld's buying advice
This is definitely a case where the laundry list of benefits outweighs the handful of shortcomings. With a powerful zoom lens, superior battery life, best-in-class image quality, and a useful blend of shooting modes, the PowerShot SX20 IS can stand up to almost any challenge. Action photography is a weakness, due to the camera's slow shot-to-shot times.
[Dave Johnson is a freelance writer.]