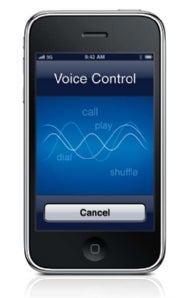 Many cheap cell phones have had the ability to dial contacts by speaking their names for some time—the problem in is just that most of those voice systems don't work very well.
With the debut of the iPhone 3GS, Apple introduced a new Voice Control feature that lets you speak to your phone in order to have it dial contacts or control music playback—great for when you want to keep your phone in your pocket on those cold winter days, or safely initiate a call while on the road. It also makes the phone more usable for those with disabilities that hinder them from using the iPhone's touch interface.
It's altogether possible that you haven't yet taken advantage of the 3GS's Voice Control features, and while it may not allow you to command your iPhone to produce a cup of "tea, Earl Grey, hot," there are still plenty of tricks up its sleeve.
There are three ways to trigger Voice Control on your iPhone. The most basic is to hold down the Home button (as covered in a previous installment of iPhone Hints) until the iPhone beeps and vibrates and the Voice Control background appears. The second is to squeeze and hold the center button on the in-line remote of the iPhone 3GS's headphones. And, as of iPhone OS 3.1, you can also trigger Voice Control by holding down a button on compatible Bluetooth headsets (which button may differ based on your headset).
Best of all, Voice Control isn't just for English speakers. The iPhone also recognizes Chinese (Cantonese, Taiwanese, and mainland Chinese), Dutch, British and American English, Finnish, French (and Québécois), German, Italian, Japanese, Korean, Norwegian, Polish, Portuguese (and Brazilian Portuguese), Russian, Spanish (for Mexico and Spain), and Swedish. While that may not cover every country in which the iPhone 3GS is available, it does, hoepfully, cover a substantial number of 3GS owners.
Just call my name
Calling is the biggest boon of Voice Control, letting you easily dial a contact without flicking through pages upon pages of your iPhone's contact list. Just say "call John Smith" or "dial John Smith"; if John Smith has more than one number in his Address Book entry, the iPhone will prompt you with the different options: home, mobile, work, and so on. The iPhone will even speak any custom labels you've added (for more on which, see this previous edition of iPhone Hints). Say the specified label and the iPhone will dial away.
To shortcut this process, append the phone label to the initial command by saying "call John Smith mobile" or "dial John Smith home" and the iPhone will call the appropriate number.
You can also dial any number by saying "call" or "dial" followed by the numbers themselves, for example "call 617-555-1234."
Vocal performance
Voice Control's other strength is controlling your iPhone's music playback. You can say "play" or "play music" to start playing from the album, artist, or playlist you were last playing. You can specify a musical selection by saying "play," the type of selection, and the name of that selection. For example, "play playlist workout," "play artist Guster," or "play album 'Even If It Kills Me.'"
There are a couple limitations: you can't specify a particular song to play, and you can't have it play podcasts or audiobooks—unless they're filed under the music section of your iPhone's library.
Other common commands work as well: you can say "pause" or "pause music," "next song," and "previous song." If you want to mix up the tracks of the current selection, you can say "shuffle."
For those who use the iPhone's Genius feature, you can start playing a Genius playlist based on the current track by saying "Genius," "play more like this," or "play more songs like this."
And if you blank, as I occasionally do, on what exactly you're listening to, your iPhone can tell you: just ask "what's playing?", "what song is this?", "who sings this song?", or "who is this song by?" to have it tell you both the name of the track and the artist that performs it.
What's the word?
Suddenly you've decided you don't want to give your iPhone a voice command, but would prefer it just go back to whatever it's doing. No worries: you can always say "cancel" or "stop" to dismiss the Voice Control screen.
And if you ever find yourself suddenly stymied for what to say to your iPhone, just glance at the screen once you've triggered Voice Control and you'll see various commands float by in the background.
That wraps up pretty much everything there is to know about Voice Control for the iPhone 3GS. If you've got more tips and tricks for speaking to your iPhone, feel free to chime in in the comments below.
Got an iPhone tip to share? Want to put a bounty on how to do something? Drop us a line at iphone@macworld.com with the subject line "iPhone Hint."