Arachnadoodle by Connect2Media takes an interesting and refreshing twist on the puzzle genre. While comparisons could be drawn to games like Peggle, Arachnadoodle manages to put a fresh spin on the gameplay. As Boris the spider you fling yourself around the room connecting pins with your webs. Connect all the pegs before you run out of jumps and you advance to the next of 32 different rooms. The more intricate your web, the more flies you'll catch for bonus points.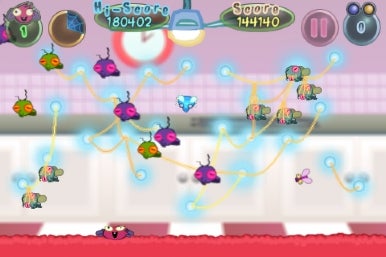 Controlling Boris is a breeze. Flick in the direction you want to travel, and off he flies leaving a web trail behind him connecting two or more pins. As you advance through the rooms in the house, you'll have to plan your route carefully as obstacles like dangerous bugs appear. You'll find yourself replaying levels over and over to fine-tune your strategy and connect all the pins.
Though its simple to play, Arachnadoodle is an extremely polished game from top to bottom. Fun graphics and clever animations combine with some real challenge to keep you motivated to get Boris through all the rooms. OpenFeint integration is also included to give you a full social gaming experience with buddy tracking, achievements, and global scoreboards.
Arachnadoodle is a fantastic iPhone puzzle game. It manages to combine fun, easy-to-learn gameplay with enough challenge to keep you entertained for hours. Hopefully, there are more levels in the future for Boris.
[James Savage is the host of the RetroMacCast a weekly podcast devoted to older Macintosh computers.]