Apps are fast becoming essential to the immense press junket required to promote a movie. Ninja Assassin, the Warner Bros. companion game to the Wachowski brothers' produced gore-fest, is one of the latest examples of this new marketing frontier.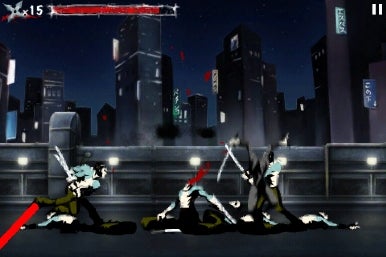 You take on the role of film protagonist Raizo, an orphan taken in by the Ozunu Clan. Without having seen the movie, I found the story to be vague and confusing at times, but it's more or less filled in with plenty of dramatic interludes and on-screen prompts that help you understand the context of the battles.
The graphics may be the best part, with animation resembling a noir, Frank Miller-esque comic book world—think Sin City in Japan. The heavy metal soundtrack completes the ambiance. It's clear that the developers spent a lot of time and money making the game look good, but unfortunately seemed to have forgotten to make it playable. Unintuitive controls and a dramatic difficult curve mar this promising title.
Ninja Assassin has two ways to play. In Story Mode, intended for longer play sessions, you follow the story line through different levels and scenarios. Essentially, most levels task you with killing enemies on the screen until they stop coming.
Meanwhile, Survival Mode is perfect for short burst of play, allowing you to practice your sword skills against an increasingly difficult onslaught of bad guys. Using the iPhone's touch-screen controls, you swipe your fingers across the screen to haphazardly move forward, jump, and guide your sword.
Each level begins with an instruction screen that outlines the kinds of powers you can use and suggests different strategies for killing your enemies. Thanks in large part to an elaborate tutorial that allows you to practice skills before you use them in combat, the first two levels of the game are a cakewalk. But then the game's difficulty jumps—you start dying much more easily and the bad guys become exponentially harder to kill. This sharp uptick in the difficulty progression exacerbates the already complicated gameplay.
Though it's nice to have these tips, it would be preferable if the game were a little more intuitive, instead of having to spell out every last detail of every situation. Perhaps with a little more time and patience I could master the game, but if I cared that much about Raizo, the Ozunu Clan, and faux ninja proverbs, I'd go see the movie.
Which is, of course, the point. The game is a $3 extension of the movie, but its convoluted plot does not neatly compress itself into the iPhone. Though studios have embraced the iPhone app as a hip marketing tool, this one does not live up to the hype.
[Meghann Myers is an editorial intern for Macworld.]