Anyone who grew up in proximity to a video arcade in the 1970s or '80s remembers Space Invaders. And anyone who grew up afterward has probably seen the game, maybe in a movie, on some Flash Emulator, or even on one of those cheap joystick contraptions that you could plug into your TV and play a dozen old Atari 2600 games for a fraction of what people paid for them 25 years ago.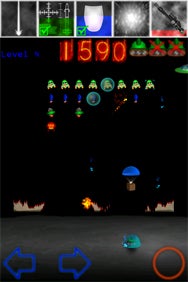 Space Invaders was a great game because it was so simple. You moved a gun platform back and forth to shoot out lines and rows of slow-but-incessant UFOs that are encroaching on your position.
But Space Invaders wasn't a perfect game. For one thing, the technology and the programming of the time limited its scope and ambition. Kids today, weaned on 3D graphics, would scoff at Space Invaders' 8-bit primitivism. And those of us who have certain nostalgia for the game find ourselves wanting something… more.
What would "more" look like? How about auto-cannons, homing missiles and cluster bombs? How about better, full-color graphics? How about up-to-date sound effects, and no more of that annoying "bum-bum-bum-bum" soundtrack and chirping sounds every time you shoot? How about frickin' lasers?
How about CMG Research's Aliens Invade app for the iPhone and iPod touch?
The graphics are colorful and marginally three-dimensional, although you're still blasting away in a two-dimensional battlespace. But what a blast! Instead of lamely chirping guns and a thin bass soundtrack, your guns sound like fireball-blazing howitzers and the invading aliens descend accompanied by doom-heralding kettle drums. A robotic voice informs what kind of power-up you've nabbed. (Incongruously, the power-ups drop from those advanced alien spacecraft in what appear to be wooden crates assisted by parachutes — I don't really understand why, but there you go.)
Controls are simple. You move back and forth by tapping the arrows on the left side of the screen and shoot by tapping the red fire button on the right. As you might imagine, the game rewards furious tapping.
As with the original Space Invaders, a mothership will occasionally hover across the top of the screen. And your position is protected by three (instead of four) large blocks that the invading ships (and you) gradually blast away. Purists may blanch at the fact that those blocks regenerate, but you need the protection as the aliens here shoot more often than they did in the original game.
Aliens Invade might also appear to be less challenging than its ancestor. If you collect enough power-ups, you can sit out in the open with your shields up and blast away at UFOs with homing missiles or exploding ordinance while taking incoming fire with impunity. But don't be deceived. The power-ups don't last long—you can watch each power-up's draining supply at the top of the screen—and some, such as the laser beam, are pretty rare. Also, those UFOs move a lot faster than they did in 1978. That's why you need so much more firepower.
Drawbacks? At least one, and not a small one: The controls get a bit sticky, especially if you're in one of the corners of the screen. But I've also noticed small—but occasionally deadly—delays in response from the controls. You have to double-tap to make sure your gun platform moves. When I've died in the game, it's usually because I've been stuck someplace and the controls haven't responded.
The game does not require a Wi-Fi, 3G or EDGE connection unless you want to share your high scores with the wider world. The latest version incorporates OpenFeint, a social networking platform for the iPhone geared toward the burgeoning gaming community. OpenFeint lets users set up gamer profiles, post messages and chat in games. The add is optional—you aren't required to turn the feature on, it only works if you're connected to the Internet, and there isn't much of a reason to chat with anyone in this single-player shooter anyway.
Bottom line: Aliens Invade is Space Invaders for the 21st century. It's the game you would have wanted to play when you were a pimply-faced punk loitering at the arcade and popping Milk Duds. It's fun and addicting and you'll want to blast away often. Commence firing.
[Ben Boychuk is a columnist and freelance writer in Rialto, Calif. Feel free to e-mail him.]