The Mill is one of leading visual effects companies in the world. With its Mill Colour app, The Mill takes some of the excellent color control that it's known for in the professional editing world and brings it to your iPhone.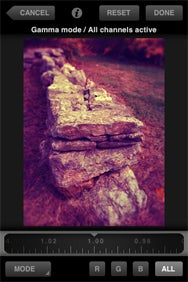 As with most photo-editing apps, when you launch Mill Colour you are prompted to select an existing image, or, if you're using an iPhone, take one through the app. Once the photo is selected, you can choose to apply one of the pre-set "Looks" (such as "cross-processed," "70s," or "instant") or you can begin editing from scratch. When you select one of the Looks, you can swipe left to right to preview each Look. I found I got my best results by choosing a pre-set look and adjusting from there.
You make the detailed color adjustments in the Colour Controls panel (either on top of the chosen Look, or directly to the source image). There are four main areas of adjustment: Lift, Gamma, Gain (dark, midtones and bright areas accordingly), and Saturation. When adjusting each area, a dial appears below the image, which you can move left to right.
The beauty of Mill Colour is in the sensitivity of this dial. It offers very precise control; you can slowly adjust it, allowing you to watch the changes taking place on the image above. For even finer detail, you can choose to select just the Red, Blue, or Green channels within each mode, though "All" is selected by default (and is a good place to start).
Amazingly, Mill Colour is a free app. There is a link within it to a portfolio of some of The Mill's work (on some of the biggest brands in the world), as well as link to the company's Website.
Mill Colour combines the ease and simplicity of pre-set looks with a level of fine-tuning color adjustment that surpasses anything else I've tried in the arena. On top of that, the app seems to have the ability to pull colors out of your photos that you didn't know were even there. Given The Mill's pedigree this shouldn't come as a surprise.
Spend some time learning running your photos through Mill Colour, and you'll be amazed with the results.
[Macworld contributor Beau Colburn lives in Boston where posts some of his favorite iPhone photos at Snap different.]