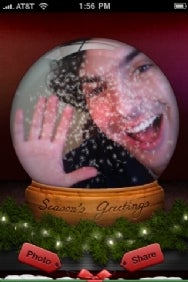 Just in time for Christmas, the fine folks at RogueSheep—the company behind App Gem award winner Postage—have released SnoGlobe.
SnoGlobe lets you choose (or take) a photo to use as the background of your custom creation, and then you can shake up the snow and watch it settle. You can also post your personalized snow globe to Facebook or Twitter, or e-mail it to anyone close enough to you that they won't mock you for doing so.
SnoGlobe costs just $1 in the App Store, and is sure to keep children and adults alike entertained for seconds at a time—just like the real thing.
SnoGlobe isn't RogueSheep's only-holiday themed app. Last week, the developer released Holiday Postage, a $1 Christmasy version of Postage that creates electronic postcards with a holiday theme.