reQall is a handy, well designed to-do list manager from QTech that lets you speak or type reminders into your iPhone. The app then organizes those notes, sends you reminders, and syncs events with with iCal, Google Calendar, and Outlook; it can also link to related items in Evernote.
You may have seen David Pogue's zany NY Times video touting reQall's memory-jogging powers, and, for the most part, I found my experience to be the same. While I was occasionally disappointed with the app's responsiveness and the time it took for my voice memos to get "typed" into useful text, my overall experience, while not quite the "camp meeting" experience Mr. Pogue seems to have had, is something bordering on ecstatic glee.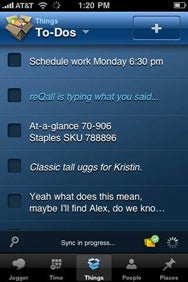 How does it work? Put your iPhone to your ear with reQall open and you'll feel a gentle buzz telling you that reQall is ready to listen. Tell reQall to "bring bagels to work tomorrow," then pull the phone away from your ear and reQall will buzz again, letting you know that it's heard what you've said and is going to work.
What happens next is something just short of a miracle. reQall uploads your audio to its servers, converts the message to text and analyzes what you've said. Once analyzed, reQall can interpret about ten keywords. reQall then organizes your message into one of four categories: Time sensitive tasks, things, people, and places. reQall does this by listening to keywords you've spoken. Say "buy," and whatever items you say after that will be added to a shopping list. Say "note," and what you say will be added as a new note. Say, "tomorrow," and reQall will put that task on your calendar for tomorrow. Say "buy bagels for Alex tomorrow," and you'll have bagels added to a shopping list and a to-do added to your to-do list for tomorrow. Once added to your to-do list, the reQall service will send messages via e-mail, SMS, and the reQall app to remind you when something is due.
reQall can decipher some pretty obscure information and returned results that were better than I expected. For example, I spoke the model number for a Panasonic plasma television into reQall so that I could remember it later. reQall sent me a message that was almost 100-percent phonetically correct—"pee cee dash five four ess one four"—but once reQall finished typing my note I was surprised to find that reQall had nailed it: PC-54PS14. The initial "p" was the only incorrect letter, it was supposed to be "t," but I'm happy to chalk that one up to bad diction on my part.
The free reQall app works with reQall's Web-based service, which is available either in a free standard account or a pro account that costs $3 per month (or $25 if you opt for an annual subscription). ReQall's pro account offers direct Outlook and Google Calendar integration, location-based organization, Push notifications, enhanced e-mail capabilities and the option to automatically link reQall events with data stored in Evernote.
I only have two complaints with the app. First, there were many times when reQall didn't recognize that I'd put the phone up to my ear and, short or typing the text by hand, the only way around the problem was to quit the app and reopen it. Second, spoken notes often took too long to process, in some cases up to 5 minutes. Otherwise, reQall is a slick, smart, amazingly useful app.
[ Jeffery Battersby is a writer, (smalltime) actor, and regular contributor to Macworld.]