Texts From Last Night is a $1 app from the creators of the Website of the same name. Both feature a seemingly endless stream of tawdry, embarrassing, and hilarious text messages of unknown veracity.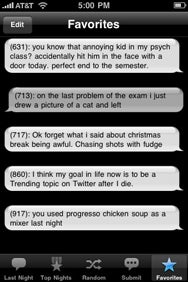 And frankly, that's about it. The texts are funny, if not always believable:
"i fell off the bed in the middle of it, and he yelled '5 second rule' and kept [going]. I think im in love" [sic]

"You act like I was drinking alone… I had the entire Verizon network with me."

"Get out of your relationship and into my pants."
This isn't Shakespeare, but it is comedy. The app's layout is sparse and dark; each text is encapsulated in a speech bubble—much like the Messages app on the iPhone—but against a black background. I'd love if the app were a bit brighter or more colorful. On the other hand, it's certainly a more elegant way to browse the latest and greatest texts than using Mobile Safari: It's both faster and easier to scroll and sort within the app. You can submit your own late night texts directly from the app, assuming your evenings are more interesting and/or drunken than mine.
If your addiction to last night's texts is so complete that you need instant access to them wherever you are, then $1 seems like a fair price to satisfy your craving. If you're more of a social reader of late-night texts, though, the Website might be good enough.
[ Lex Friedman is a frequent Macworld contributor.]