Add another item to the list of ways the iPhone can improve your daily life—it makes gift-giving a heck of a lot easier. After all, if someone on your list happens to be an iPhone user, you've got a wide array of add-ons for your holiday-shopping needs.
But which add-on is the right one for your iPhone-toting recipient? We've got a few suggestions for gifts that will come in handy for any iPhone owner, from accessories to cases to speakers. And with just a few shopping days before Christmas, it shouldn't be too difficult to track down any of these items.
SoundClip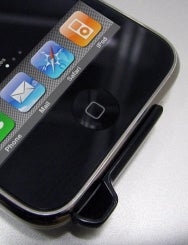 Few iPhone accessories outperform their appearance as much as Ten One Design's $8 SoundClip. This simple but ingenious doohickey (which I covered earlier this year) attaches to an iPhone's dock-connector port and redirects audio from the phone's bottom-mounted speaker toward the front (and prevents the user's hand from blocking said speaker). When you curl your hand around the SoundClip—the natural hand position while playing a game—the iPhone's audio is noticeably louder and clearer. Small enough to fit in a stocking, or even an envelope, the SoundClip is the perfect regalito for the iPhone gamer in your life.
Movie Wedge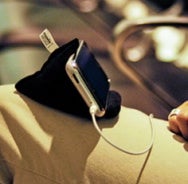 Another inexpensive idea for improving an iPhone's utility is WedgeWorks' $10 MovieWedge. While it looks much like the beanbags you'd find at a carnival contest, the MovieWedge is actually a soft, microsuede beanbag with a padded "lip" on the front. Place the bottom edge of an iPhone behind the lip, and the MovieWedge is the perfect stand for watching video. And because the MovieWedge is pliable, you can easily adjust the angle of the iPhone's screen, as well as adjust the stand so it sits stably on a variety of uneven surfaces—for example, on your leg.
WallDock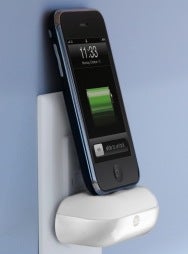 You can never have enough places to charge an iPhone. DLO's $25 WallDock is a clever charging cradle that plugs directly into a wall outlet—no cables required—and provides a sturdy base for an iPhone while it charges. The top of the WallDock is made of cushiony rubber to protect the iPhone; this rubber covers the unit's dock connector when not in use, making the WallDock noticeably more attractive than your run-of-the-mill iPhone dock. The connector itself is hinged, letting the iPhone rest against the wall (thus avoiding strain on the phone's dock-connector port). And because the WallDock provides the maximum safe charging power, the iPhone is charged faster, as well.
ReCoil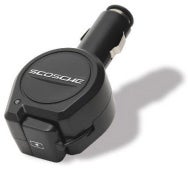 Speaking of charging, for the iPhone owner who spends a lot of time in the car, Scosche's $30 ReCoil offers a unique alternative to cable clutter: a retractable iPhone-charging cable. Plug the slightly-bulky ReCoil into the car's accessory ("cigarette-lighter") jack, and it provides 5 Volts of iPhone-charging juice via a standard dock-connector cable. When not in use, the cable retracts into the body of the ReCoil; the dock-connector plug fits neatly in a magnetic slot on the front. You can leave the ReCoil plugged in without the mess of wires and cables you get with most car chargers.
Perforated Snap Case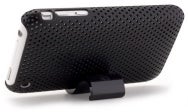 An iPhone case is usually a safe gift bet—assuming it's stylish. I also recommend something thin and light over bulky and overprotective, and Incase's $30 Perforated Snap Case fits the bill. Available in black, white, or pink, the rigid Perforated Snap Case covers the back and sides of your iPhone, protruding just far enough around the front that you can lay the phone face-down without the screen touching the desk or table. The perforated design makes the case lighter than other similar cases while letting the color of your iPhone peek through. (I recommend the black or pink case on a white iPhone, or the white case on a black iPhone.) A handy travel stand, which supports the iPhone at either of two angles, is included.
U-Hip Pop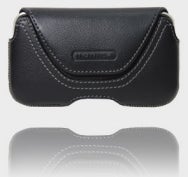 Love them or hate them, holsters—cases for carrying your phone on your belt—are popular, for many people because they provide carrying protection while letting you use your iPhone unencumbered. If your gift recipient is a holster fan, Uniea's $30 U-Hip Pop is one of the most attractive we've seen. The leather U-Hip Pop has rigid sides, a soft lining, and a magnetic closure, yet it's surprisingly thin and light (just 2 ounces). An opening on the bottom of the case makes it easy to push your phone up and out of the case with one hand. And the case's design and accent stitching are actually stylish, making this one of the few holsters that even holster-haters might consider wearing.
Gorillamobile for 3G/3GS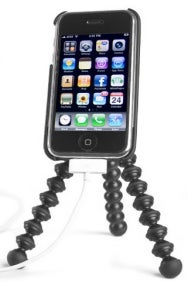 While an iPhone can't take the place of a dedicated camera or camcorder for most people, there's something to be said for the adage that the best camera is the one you have with you. For those who take their iPhone photos and video a little more seriously, Joby's $40 Gorillamobile for 3G/3GS is a convenient tripod mount in the form of a hardshell case. You use the Gorillamobile as your iPhone's everyday case, and then whip out the included portable tripod, connecting it to the special tripod clip on the back of the case, when you need a steadier hand. But it's not just any portable tripod: it's Joby's famous Gorillapod, complete with flexible legs that allow you to fasten your iPhone to a tree branch, handrail, or other small object. (The included Gorillapod also comes with a standard camera mount, so you can also use it with your point-and-shoot digital camera or Flip video camera.) Grab a copy of Joby's free Gorillacam iPhone app, which provides timed, rapid-fire, time-lapse, and burst shots, along with grid overlays and a level, and the iPhone is much more capable than the typical cellphone camera.
MonCarbone cases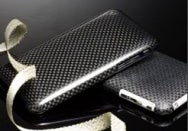 At the upscale end of the case market, MonCarbone offers stunning carbon-fiber hardshell cases. Each $60, hand-crafted case protects the back and sides of an iPhone under a super-thin shell of carbon-fiber composite that weighs next to nothing—this is one of the thinnest and lightest cases on the market, yet it's surprisingly sturdy and scratch-resistant. You can choose from high-gloss Midnight Black or matte Mystery Black, Elegance Gold, or Luminous Silver. MonCarbone will include personal engraving (up to 30 characters) for an additional $20.
JuicePack Air & Hip Holster 5500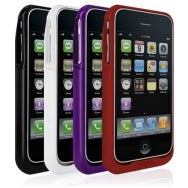 For those who push their iPhones hard, a little extra juice can be the difference between a full day of use and a dead phone by afternoon. Mophie's $80 Juice Pack Air is an external battery in the form of a protective case. The Juice Pack Air doesn't provide quite as much extra power as some other products, but it's also much sleeker and thinner than most external batteries. (You can charge and sync your iPhone without having to remove it from the Juice Pack.) And if your favorite iPhone owner prefers to carry his or her iPhone on the waist, the $30 Hip Holster 5500 is a flip-open holster that fits a Juice Pack Air-encased iPhone like a glove.
inMotion Classic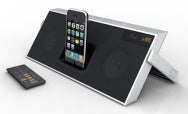 Anyone with an iPhone or iPod understands the appeal of a portable speaker system (a la, "boom box"). Altec Lansing's $150 inMotion Classic—available for under $100 at street prices—is one of the best out there right now thanks to a combination of good sound quality, light weight, a reasonable price, and useful features—including an FM radio, an internal rechargeable battery, a flimsy-but-useful handle/stand, a stow-able remote, and Works-With-iPhone certification.
B&W Zeppelin Mini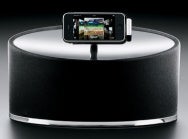 Looking to splurge? Consider B&W's $399 Zeppelin Mini, a slimmed-down version of the company's stellar Zeppelin iPhone/iPod speaker system. Though much smaller than the original Zeppelin, at just 12.6 inches wide, 6.8 inches tall, and 4 inches deep, the chrome-and-black Mini nevertheless provides impressive sound quality thanks to proprietary drivers, a built-in digital-to-analog converter (DAC) that can also be used with your Mac, digital signal processing, and class-D amplifiers. The flexible docking arm rotates to accommodate either a vertically or horizontally oriented iPhone.
New headphones
Of course, I would be remiss if I didn't recommend an upgrade to your special person's headphones. Be sure to check out our recent headphone buying guide, which includes recommendations at various prices for every type of headphone.
[Senior editor Dan Frakes covers accessories for both the iPhone and the iPod.]