As I find myself meandering through life, I'm always looking for more answers, which lead to more questions, and so on. It's a never-ending cycle that has me constantly looking for sources of inspiration and information.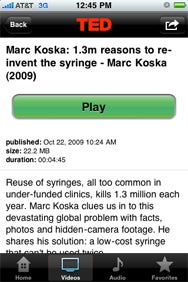 TED—which stands for "technology, entertainment and design"—is a conference which seeks to bring together some of the more innovative and brilliant people in the world to discuss just these sort of questions. All of these talks are provided online for free as audio and video, and with the TED mobile app from VenueM, you can bring this library of knowledge everywhere you go.
The TED app is a portal for accessing all of the content shared on the TED Website. Launching the app takes you to the Home screen, which shows a short list of the most recent talks that have been posted. From there, you've got one-touch access to a short description of each talk and the ability to play it, share it with your friends, go directly to the TED Webpage for it, or add it to your favorites list. Since most TED talks are captured primarily in video, you'll find a generic Play button in most cases, launching a video player.
Other options—Audio and Video—give you access to the relevant list of talks with the same sort of access options you get from the home screen, as well as a favorites section. If you're like me and love to share the best talks with friends (or even keep track of the ones you liked for reference in conversation), you can keep a running list here.
As someone who has listened to couple hundred TED talks, I can tell you that no matter who you are or what your field of study in life may be, there is something in TED for you. As a conference dedicated to "Ideas worth spreading," the makers of this app sure have made spreading those ideas as simple as possible.
[Rob de la Cretaz is a full-time polymath and a proud resident of Pittsburgh.]